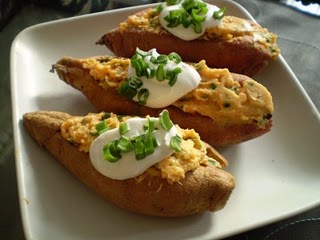 Yield: 4 Servings
This recipe was mentioned in a recent post as a perennial Thanksgiving favorite by my good friend since childhood, Donna Lynn. Even as kids, my sister and I never cared for those sweet potatoes smothered in pillows of marshmallow. So, we pounced on this recipe when we found it. Simple though they may be, the flavors of the ingredients, when combined, are more than the sum of their parts. While the original recipe contained dairy, I've veganized it here:
2 medium sweet potatoes
2 tablespoons soy sour cream (the original recipe called for 1/2 cup–nowadays that seems like too much of a good thing)
2 tablespoons vegan butter (I like Earth Balance)
salt and pepper to taste
2 tablespoons minced fresh parsley or 2 teaspoons dried
2 green onions, sliced
Optional Garnish: 4 teaspoons sour cream and the green part of 1-2 green onions, finely sliced
Either bake the sweet potatoes, oiled and pierced, for 50 minutes in a preheated 400 degree oven or microwave them on "high" until just tender, about 6-10 minutes. Cut in half lengthwise, scoop out the pulp and, using a fork, mash with next 3 ingredients until free of lumps. Stir in parsley and green onions and spoon lightly back into potato shells. If potatoes have cooled down more than you like, return to oven or microwave just until heated through. Serve warm with optional garnishes divided among the four halves.
Source: This recipe has been a family favorite for so long that we no longer know from whence it came, so I'm going to credit my sister Ginny as she discovered it initially.