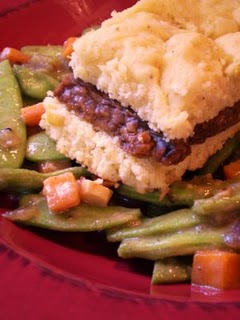 Yield: 4 Servings
A gift of snap beans from my friend Becky's recent CSA haul partially inspired this updated southern-style recipe. Recalling that my kinfolk scarcely know how to cook snap beans without ham hock, I knew I wanted to include an oinkless substitute. And since my veganized version of my mom, Sallie's, Double Corn Fingers are a mandatory side with southern veggies, I could suddenly picture little corn finger sandwiches or "stacks" filled with faux ham and nestled in a slightly thickened snap bean stew. I decided to fleck the latter with carrot for added color and nutritional value and with celery, onion and garlic for flavor. A tiny bit of flour thickens the veggie broth just enough and a smidgen of nutritional yeast imparts a toasty, rich taste and aroma. The presentation is very cute and easy to eat because you want a little of everything in each bite, so its fine if it all comingles. Incidentally, though, all of the components are delicious by themselves.
Before beginning, prep all of the ingredients for each of the three components of the dish so that it goes together quickly.
Vegan Double Corn Fingers:
generous 1/4 cup vegan butter (I like Earth Balance)
1/2 cup + 2 tablespoons self-rising flour (plus extra for dusting work surface)
1/2 cup self-rising cornmeal mix
1/2 cup creamed corn
Preheat oven to 425 degrees. Place butter an 8-inch square metal baking pan and slide into oven just until butter melts. Remove pan and set aside. Meanwhile, in a medium size mixing bowl, combine self-rising flour and cornmeal. Make a well in the center and pour in creamed corn and about half of the melted butter. Stir together with a fork until completely combined. Dough will be a little sticky. Turn out onto a lightly floured surface and turn ball of dough once or twice to make sure surface won't stick. (Too much flour will toughen and dry out the corn fingers.) With lightly floured fingers, pat dough into about a 6-inch square. Cut in half crosswise, and then cut each half vertically into four fingers. Swirl butter around pan and then, working with one corn finger at a time, place it into the butter and then gently flip it over to coat both sides. Place corn fingers close together in two rows in pan. Bake for 15 minutes or until lightly golden on top. For extra decadence, you can brush a little vegan butter on the tops while they are still hot. While fingers bake, make Faux Ham.
Faux Ham:
1 cup water
2 tablespoon soy sauce or tamari
1 teaspoon Amino Acids or vegan Worcestershire sauce
1/2 teaspoon Liquid Smoke
1 tablespoon nutritional yeast
1 teaspoon brown rice syrup (or maple syrup)
1/2 teaspoon onion powder
1/2 teaspoon garlic powder (you may substitute garlic salt; just omit sea or kosher salt)
1/2 teaspoon sea or kosher salt
1/4 teaspoon freshly ground black pepper
1/4 teaspoon dried oregano
1/4 teaspoon ground dry mustard
1/8 teaspoon dried sage
8 ounces tempeh, sliced crosswise into 4 pieces
Combine all ingredients except tempeh in a large skillet and bring to a simmer over medium-high heat. While stock heats, stand each piece of tempeh on one of its long sides and, with a sharp knife, carefully slice it in half through the middle to make two thinner pieces. Place the 8 pieces of tempeh into the stock and simmer for 12-15 minutes or until almost all of the moisture is evaporated, being careful not to let it scorch. Add a little bit more water, if needed, to prevent stock from evaporating too quickly. While Faux Ham simmers, make Snap Bean "Stew."
Stock Source: Adapted from La Dolce Vegan! by Sarah Kramer
For the stew recipe and some 170+ more,

I invite you to purchase my first cookbook:
The Blooming Platter:

A Harvest of Seasonal Vegan Recipes
Vegan Heritage Press

Spring 2011