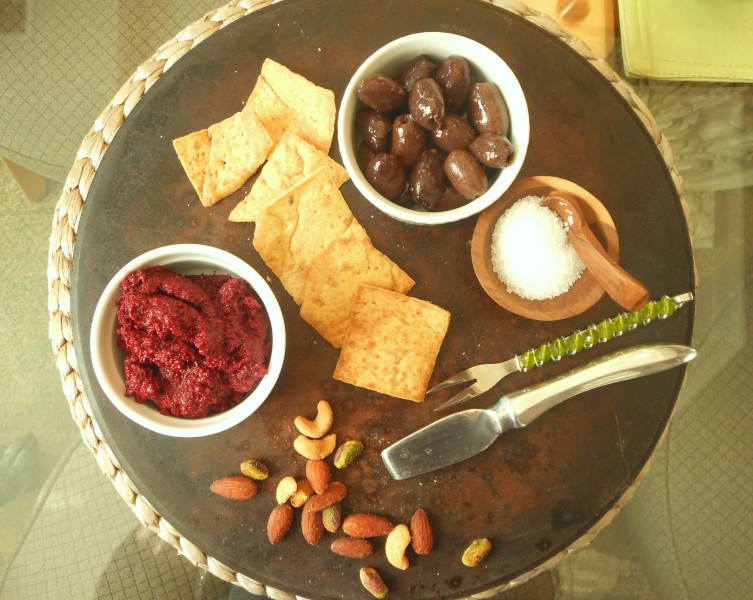 Yield:  approximately 2 cups
The Beet Muhummara spread in my Blooming Platter Cookbook is a rave with beet lovers and haters.  I know this both from experience and from others' enthusiastic reports.
However, it contains bread crumbs, which is not a problem for most people, but I teach with someone who has Celiac Disease and it is a BIG problem for her.  With a birthday next week while we're away on Spring Break, I wanted to send her home with a treat she could eat, so I created this version that is not simply Beet Muhummara sans bread crumbs, but it's own delicious spread.
It was inspired by a really zippy dipping sauce my husband and I were served with some kicked-up tempura (baby beets, baby bok choy, Brussels sprouts, wax beans ,etc.) at a recent cooking demonstration.  The vegan batter contained just a few chili flakes and the beautiful green sauce was made with lots of cilantro, lime juice, cardamom pods, etc.
I started with beets, adding what I had on hand: cilantro from a cooking class I had taught (but not too much, as people either love it or hate it), smoked almonds because I always keep them at the ready to snack on, lemon juice, and some spices.  After tasting the spread, I decided that I really liked the flavor of the lemon, but that it also needed some lime, so I purchased one and added it.  The result was tamer in the citrus department than my inspiration because, if there is anything I would have changed about the latter, it would have been to make it slightly less tangy.  The resulting balance of flavors in my Cilantro-Coriander Beet Spread is perfect for my palate, but always feel free to adjust for yours!
4-2 to 3 ounce fresh beets (trimmed weight), peeled and quartered
1 cup, firmly packed, fresh cilantro (leaves and stems)
1/3 cup smoked almonds 2 large garlic cloves,  halved
1 tablespoon coriander seeds (whole) 1 teaspoon cumin seeds (whole)
1/2 teaspoon smoked paprika (ground)
1/3 cup olive oil
Juice of 1 large lemon
Juice of 1 medium-large lime
1 tablespoon maple syrup
Sea salt to taste
Freshly ground black pepper to taste
Optional: 1/4 teaspoon chili flakes or to taste
Place all ingredients in the bowl of a food processor and process until almost smooth, scraping down sides of bowl as necessary.