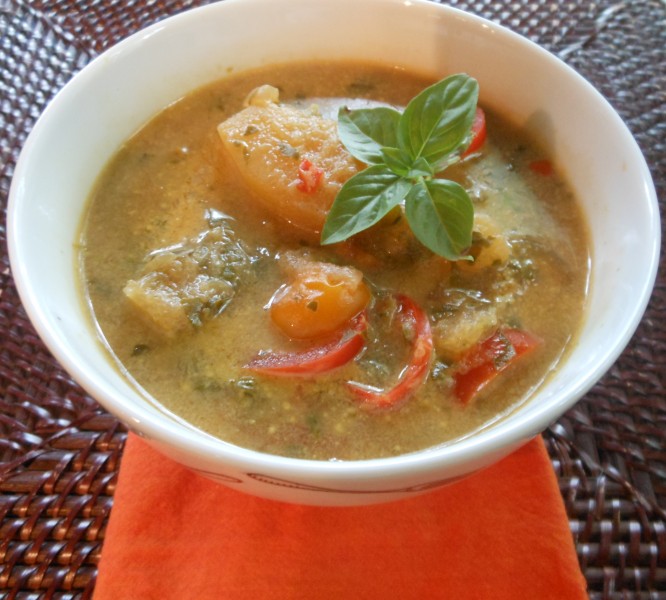 Yield: 4 servings
This soup is as delicious as it is nutritious and lovely. Thicker than most Thai restaurant soups (due to the starch in the squash), it is very filling, yet still light.
It was inspired by my love of all things Thai, but also by an over-zealous trip to the farmer's market this week considering I am leaving town on Sunday.  In a little bit of a panic about not wasting food, I created this soup brimming over with vegetables like red bell pepper, fresh chili pepper, pattypan squash, grape tomatoes and Swiss Chard.
I had purchased 2 bunches of the chard–what was I thinking–so I created a really tasty Swissh Chard and Pumpkin Seed Pesto out of the remainder, which will freeze nicely.
I used the vegetables I had on hand, but feel free to substitute other veggies, keeping flavor, texture and color contrast in mind. In addition to the onion and bell pepper, you will want about 4 cups of vegetables. Precokl firmer vegetables like squash and carrots, and simply heat softer ones like tomatoes and mushrooms.
2 tablespoons olive oil
1 medium onion, thinly sliced
1 large red bell pepper, stemmed and seeded, thinly sliced
1 1-inch piece of fresh ginger, peeled and very thinly sliced
1 large cloves garlic, minced
2 teaspoons minced red or green mild chili pepper
Sea salt to taste
Freshly ground black pepper to taste
1-15 ounce can coconut milk or lite coconut milk
2 cups water
2 regular or 1 large vegetable bouillon cube (enough for 2 cups of water)
1 tablespoon soy sauce
2 pounds pattypan squash (unpeeled and unseeded weight), baked, roasted or grilled until tender, peeled, and cut into wedges [you may substitute eggplant, zucchini and/or yellow squash]; approximately 2 cups cooked chunks
1 cup (approximately) red or gold grape tomatoes, halved
1 cup finely chopped Swiss chard (I use a food processor for this task)
1/3 cup fresh cilantro leaves and tender stems, rough chopped
Zest of 1 large lime
1/4 cup basil leaves, preferably Thai basil
4 teaspoons vegan fish sauce (sold a "vegetarian" in Asian markets) or rice wine vinegar
Garnish: 1/4 cup chopped roasted and lightly salted cashews and peanuts and sprigs of basil or cilantro
In a large (4-quart) saucepan, heat olive oil over medium-high. Add onion, bell pepper, ginger, garlic, chili pepper, and a pinch of sea salt, and freshly ground black pepper, and sauté, stirring frequently, until softened, about 5 minutes. Add coconut milk, water, bouillon cube, and soy sauce, and heat until barely simmering. Add squash, tomatoes, and Swiss chard, and return to a gently simmer. Avoid boiling. Stir in cilantro, lime zest, and basil leaves and heat through. Serve in large bowls with 1 teaspoon of vegan fish sauce or rice wine vinegar stirred into each. Garnish with chopped nuts and a sprig of basil or cilantro.