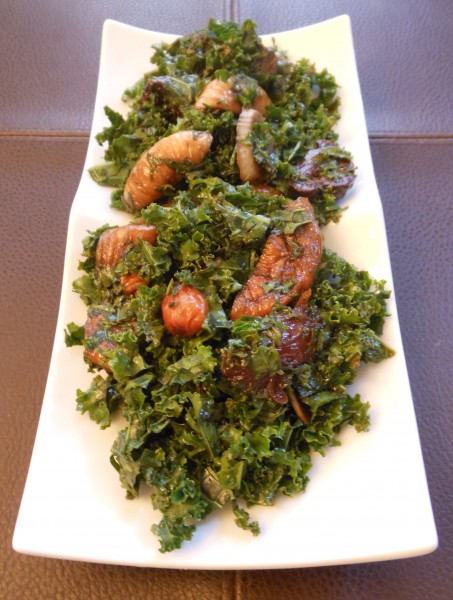 When I was imagining what to serve with my "throwback Thursday" Thanksgiving main dish of  Vegan Pumpkin, Kale, Mushroom and Tempeh Casserole with Sweet Potato Chip Topping, I reviewed the recipe and just about the only one of my favorite Thanksgiving ingredients that was missing was sweet potatoes.
However, because the entree is a pretty all-inclusive one-dish wonder and very creamy-chewy-crunchy, none of the sweet potato dishes I could dream up would provide the necessary contrast.  Instead, a salad seemed the perfect fresh, raw burst that was needed for a beautiful and bountiful meal.
So, I'm bringing back my Kale Salad with Pomegranate Balsamic Vinaigrette from last year.  Dried figs marinated in Pomegranate Balsamic Vinaigrette and smoked almonds combine with the fresh kale for a light fall salad bursing with flavor and texture.
If you love cranberry sauce, it would be a lovely addition in terms of both color and sweet-tart flavor and delicious alongside the casserole.  I recommend my sister-in-law's Cranberry-Clementine and Walnut Sauce.
For dessert, it has to be my Vegan Pumpkin Spice Chocolate Bundt Cake with Spiced-Espresso ganache!
If you want to spend more time relaxing and less time in the kitchen, yet still present a meal to truly be thankful for, this year's 3-course mostly-make-ahead menu is for you.
But feel free to peruse The Blooming Platter for many more options from Thanksgiving pasts.  Just search "Thanksgiving" or your favorite ingredients.
I am so thankful for all of you and I hope you have a very special holiday, with plenty of friends, family and fun on the menu!