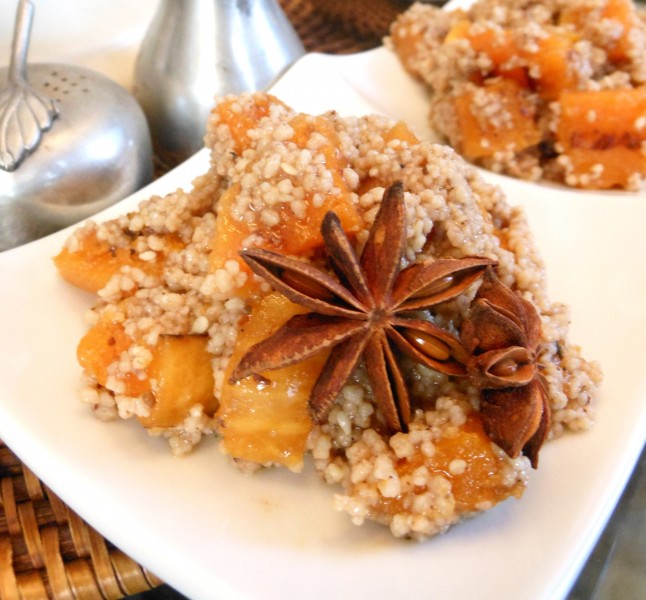 Yield: 4 servings as a side dish
I have to admit: I am quite proud of myself for the combination of spices in this dish!
I think I could eat foods seasoned with cumin and coriander; turmeric and smoked paprika; or sage and rosemary at every meal and be quite happy.
But I challenged myself to branch out, and this mixture, inspired by za'atar, seemed a fitting direction for the combination of cous-cous and butternut squash.  And it is!  Now it will be all I can do not to season every recipe with "Sass" (Sage, Anise, Sumac, and Sesame)!
Garnish this simple dish any way you choose, but since I used anise in the recipe, I thought that star anise would be a lovely, homespun, organic, yet festive nod to the winter holidays.
2 cups cooked cous-cous (To cook: bring 2 cups of salted water to a boil, stir in 1 cup cous-cous, cover, and remove from heat.  Let sit for 5 minutes and then fluff with a fork.)
1/2 pound peeled and seeded butternut squash rings, about 1/3 inch thick, grilled,and cut into 1/2 inch pieces (To grill: rub lightly with olive oil, sprinkle lightly with sea salt, and grill over medium high heat for about 4 minutes on each side or until nice grill marks appear and squash is tender.)
3 tablespoons olive oil
1 tablespoon balsamic vinegar
1 tablespoon maple syrup
1 teaspoon yellow mustard
1/2 teaspoon dry rubbed sage
1 teaspoon anise seeds, ground to a powder in a spice or coffee grinder
1 teaspoon white sesame seeds
*1 teaspoon sumac (available at Middle Eastern and some Indian markets)
Pinch garlic powder
Sea salt to taste
Freshly ground black pepper to taste
Dried red pepper flakes to taste
Garnish: sage sprigs, chopped pistachios, toasted sesame seeds.
Place cooked cous-cous and grilled butternut squash in a serving bowl.  Drizzle vinaigrette over the top and gently fold in until evenly distributed.  Garnish with fresh sage sprigs, chopped pistachios, and/or toasted sesame seeds and serve warm or at room temperature.
*Note: sumac, with its earthy and subtle lemony flavor, is worth searching for.  But if you can't find it, a small amount of lemon zest could be substituted, though I wouldn't know how much to suggestion.  Maybe 1/4 teaspoon?