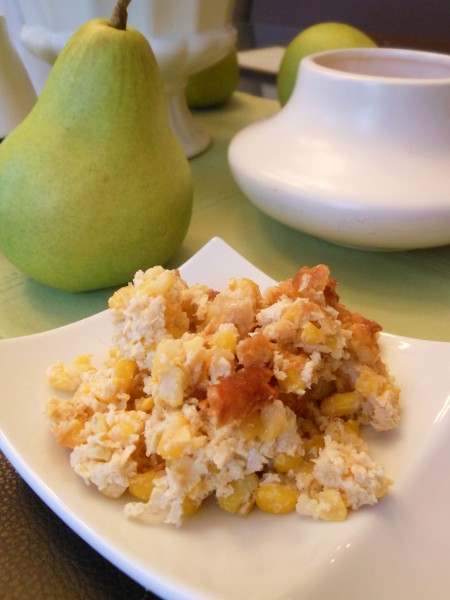 Yield: 8 servings
A few years back, my mom found the recipe that inspired this dish and started making it when she would come with my sister and dad for Thanksgiving.
It was a hit, but we abandoned it for a number of years because of our multi-cultural "Thematic Thanksgiving" approach.  Two years ago, after both of my husband's parents' had passed away, his sisters seemed to be craving a more Traditional thanksgiving for nostalgic reasons.  And this pudding was always a favorite of Tina's.
So, a month ago, I made it a couple of times, testing different approaches to veganizing it.  The second one was almost "it," though the silken extra firm tofu didn't lend quite the right texture.  With my fingers crossed, I made it Thanksgiving morning with regular extra firm tofu and it was perfect.
Though corn is a summer veg, this recipe relies on the frozen variety for it's special texture, so I like to make it off-season and Thanksgiving is the perfect occasion.
20 ounces frozen corn
2 tablespoons vegan butter (I like Earth Balance)
14 ounces regular (not silken) extra fim tofu, drained
1/2 cup unsweetened soymilk
2 tablespoons all-purpose flour (I bake with white whole wheat, so that's what I use)
1 tablespoon natural sugar
1 1/2 teaspoons sea salt
1/4 teaspoon black salt (available at Indian markets and online; desired for its sulphury-eggy taste) or an additional 1/4 teaspoon sea salt
1/4 teaspoon freshly ground black pepper
1/8 teaspoon ground nutmeg or mace
1/4 teaspoon sriracha sauce or your favorite hot sauce
1 teaspoon apple cider vinegar
1/4 teaspoon baking soda
1/2 teaspoon baking powder
Preheat the oven to 350 degrees.  Coarsely chop corn in a food processor and transfer to a large mixing bowl.  Oil an 8-inch round souffle dish, drop in the 2 tablespoons butter, and melt by heating for a few seconds in the microwave.  In a food processor, combine all ingredients, including melted butter, except corn, vinegar, baking powder, and baking soda.  Process until very smooth, scraping down the sides of the bowl as necessary.  In a small cup, combine vinegar, baking powder, and baking soda (it will fizz up) and add immediately to the tofu mixture.  Process another few seconds or until the vinegar mixture is completely incorporated.  Pour the tofu mixture over the corn and fold together until completely combined.  The mixture will be very thick because the corn is so icy.   Transfer to the prepared baking dish and bake for 1 1/4 hours or until set and top is golden brown.  Serve immediately.  To make ahead: refrigerate the baked and cooled pudding, covered, until one hour before you plan to serve it.  Remove it from the refrigerator and allow to sit at room temperature for a half hour.  Then heat, still covered, for 20-30 minutes in a preheated 350 degree oven.