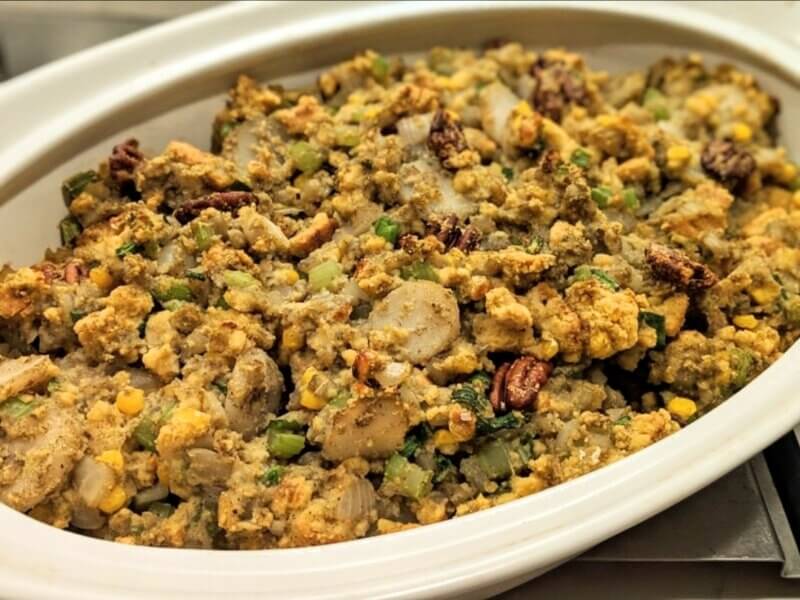 Yield: 8 servings
Stuffing is everyone's favorite, no? Mine tastes so similar and every bit as delicious as the ones I remember from childhood, yet it is not only vegan but far lower in calories thanks to only 2 tablespoons of oil in the cornbread muffins, water sauteeing of vegetables, and the inclusion of cauliflower pearls rather than white bread. Though I love cauliflower, don't worry, it does not taste–or smell!–of cauliflower.
And the texture is just perfect thanks to homemade cornbread–with actual corn–that goes together in a flash, sauteed onion plus the green part of green onions, water chestnuts–my late mom's secret ingredient–and just a few dry roasted pecan halves.
My Mushroom Misto Gravy is the perfect accompaniment.
Note: please do not try to save time by using Whole Foods vegan cornbread. It is sweet enough to be cake and, last year, reacted to liquid like cake turning into a dense mass that ended up in the woods next to our house. I had to redeem myself this year. And I did!
Cornbread:
Make cornbread a few hours–or a day–ahead:
3/4 cup self-rising cornmeal mix
1/2 cup all purpose flour (I use white whole wheat)
1 tablespoon Vegan Egg (not tested with other egg substitutes but try it and share!)
1/2 cup unsweetened non-dairy millk (I use soymilk)
2 tablespoons vegetable oil
1/2 cup water
Sea salt and freshly ground black pepper to taste
3/4 cup frozen corn
Preheat oven to 450 degrees. Grease 6 muffin cups and preheat for about 7 minutes. Meanwhile, in a medium bowl whisk together dry ingredients. Make a well in the center and add vegetable oil and water. Whisk together just until combined. Season with salt and pepper, and stir in corn. Divide mixture evenly among muffin cups and bake 20 minutes or until golden brown. Remove from oven and, when cool enough to handle, remove cornbread muffins from tin and crumble into a large bowl. Cover until ready to use.
Stuffing:
1 medium onion, finely diced
2 cups cauliflower pearls (buy them prepared or chop in a food processor until the size of small peas)
4 celery hearts, sliced lengthwise, and then finely diced
1 tablespoon minced garlic
2 teaspoons poultry seasoning
Pinch of sea salt and freshly ground black pepper
2 cups vegetable stock or broth, divided
1-8 ounce can sliced water chestnuts, drained
4 green onions, green part only (reserve white part for my delicious fat-free Vegan Mushroom Gravy)
1/4 cup pecan halves toasted for 5 minutes at 350 degrees
3 tablespoons aquafaba (liquid from a can of chickpeas)

Reduce oven temperature to 350 degrees and oil a 9 x 13″ casserole dish. Cover bottom of large cast iron skillet with water. Heat over medium-high and then stir in onion, cauliflower, celery, garlic, and poultry seasoning. Season with salt and pepper and saute, stirring frequently, until tender, adding 1 cup vegetable stock a little at a time. When vegetables are softened and most of moisture has been absorbed and/or cooked off, remove from heat and add to bowl with crumbled cornbread. Stir in water chestnuts, green onions, and toasted pecans, moistening with remaining cup of vegetable stock or broth and aquafaba. The consistency should be that of unbaked bread pudding, so add liquid a little at a time, adding more or less, as needed. Adjust seasoning if necessary, transfer to prepared casserole dish–avoid packing down–and bake, uncovered, for a half hour. Serve immediately.