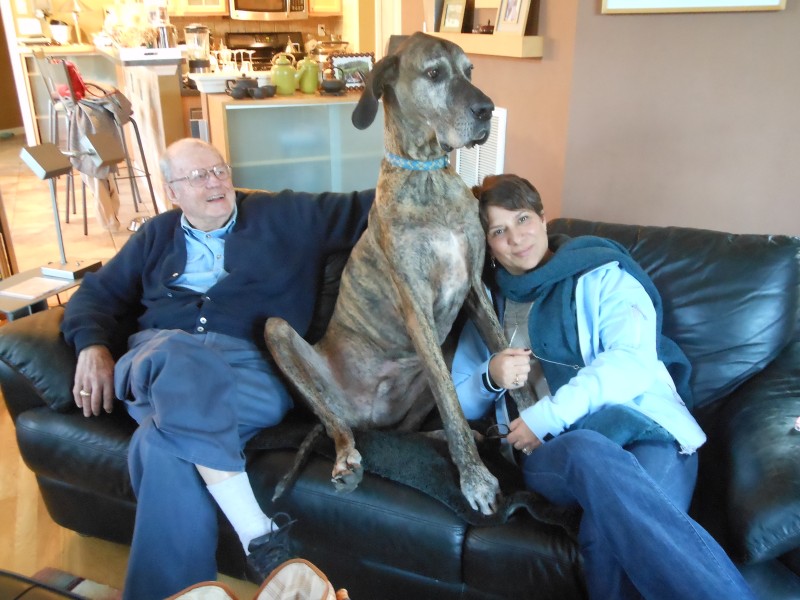 Ever since the year after we were married, Joe and I have enjoyed the annual privilege of hosting Thanksgiving for our respective families.
The venue has changed from our small first house to the roomier home we built 13 years ago as have the number of people gathered around the table, for family members and friends have come and gone through death, divorce, relocation, engagement, or just scheduling conflicts.
Everyone misses Joe's now deceased parents and, this year, an engagement and a work schedule prevented one of our nieces and our nephew from coming.  But, my parents and sister all joined us this year.  (Impending knee surgery had kept my sister and mother home last year and my father, especially, felt guilty for coming without them, though they encouraged him.)
Both of Joe's sister's, one niece, and his married sister's husband all were able to come, which made for a convivial group of 9 plus two hungry Great Danes.
I loved having my sister stay at our house, but I also loved visiting our parents at their beachfront hotel, and taking long (like 7 miles long) walks on the boardwalk with Joe's younger sister from his families'  beachfront hotel.
There were lunches and dinners both in and out, movies, a couple of exciting football games (MS State vs. Ole Miss and Auburn vs. Alabama), dog walks, a bit of shopping with my mom and sister–we had to get Mom something pretty to wear for the holidays and she no longer drives (words I thought I would never utter)–planning for an SPCA fundraiser (more on that later), and lots of conversation, teasing and laughter.
Our tasty dinner–we usually eat around 6 p.m.–consisted of the following vegan dishes:
Kale Salad with Pomegranate Balsamic Marinated Figs & Dates Topped with Smoked Almonds
Roasted Brussels Sprouts with Crispy Shallots
Double Corn Finger, Baby Spinach, and Caramelized Onion and Corn Dressing (see below)
Morel Mushroom Gravy (no real recipe)
Pear Chutney (not yet posted)
Apple, Pear and Dried Apricot Crisp with Chai-Scented Streusel Topping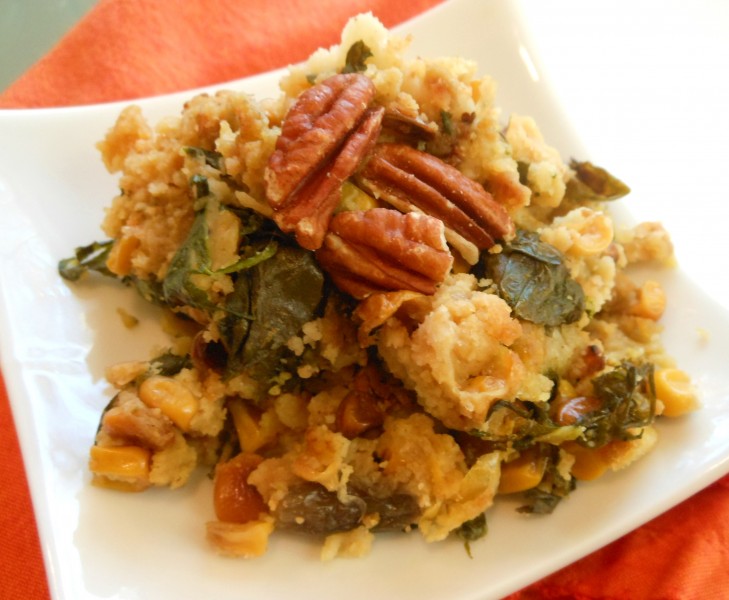 Everyone seemed to love it all, but the dressing was a particular favorite.  I had found a recipe for Double Corn-Cornbread Dressing in the November issue of Better Homes and Gardens.  I was excited that it incorporated spinach in a great enough amount that each serving included a healthy serving.  So, I basically followed their recipe (substituting a vegan broth for their chicken broth).  But, as a child, I loved my mom, Sallie's, Double Corn Fingers, so I decided to use my veganized version of that recipe in place of the cornbread and it was absolutely scrumptious in this teen-to-adult-pleasing stuffing!
Vegan Double Corn Finger, Baby Spinach, and Caramelized Onion and Corn Stuffing
Serves 8-10 (with other side dishes)
1 cup vegan butter, divided
1 cup self-rising cornmeal
1 1/4 cup self-rising flour
1-15.5 ounce can creamed corn (which is vegan)
3 cups frozen corn kernels, thawed
1 large red onion, halved, and cut into thin wedges
Sea salt
Freshly ground black pepper
6 cups fresh baby spinach
2 to 2 3/4 cups no-chicken broth or vegetable broth (I think the no-chicken broth has a richer flavor)
Preheat oven to 425 degrees. Place1/2 cup butter in a 9 x 13″ metal baking pan and slide into oven just until butter melts. Remove pan and set aside. Meanwhile, in a medium size mixing bowl, combine self-rising flour and cornmeal. Make a well in the center and pour in creamed corn and the melted butter. Stir together with a fork until completely combined. Dough will be a little sticky. Spread evenly into prepared pan and bake for 15 minutes or until lightly golden on top.  Remove from oven and let cool. Reduce oven temperature to 325 degrees.  (Can be made a day ahead up to this point.)
Meanwhile, melt remaining 1/2 cup butter in large cast iron skillet over medium high.  Add corn, onion, and salt,  and cook, stirring frequently for about 15 minutes or so, until butter begins to brown and corn and onion begin to caramelize.  Stir in pepper.  Adjust heat as necessary.  Remove from heat.
In a very large bowl, break up cornbread into bite size pieces.  Add corn and onion mixture and spinach.  Toss to combine well.  Drizzle with broth to moisten and lightly toss to combine.  Spoon into a greased 3-1uart baking dish and bake, uncovered for 40 minutes or until dressing is heated through and lightly browned on top.  Serve warm.  (Alternatively, dressing may be made up to to the point of baking, covered, refrigerated for up to a day, placed in a cold oven, and then baked at 325 degrees, covered, for 25 to 30 minutes and uncovered for an additional 25 to 30 minutes.  Recover if it appears to be browning too fast or drying out.)