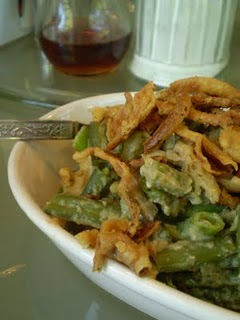 Yield: 6 servings
An old holiday or any day favorite gets a lightened-up vegan make-over.
9 ounces frozen green beans, thawed in colander, drained and patted dry
1 tablespoon olive oil
4 green onions, thinly sliced
3-4 stalks celery, halved lengthwise, and thinly sliced
2-3 medium-large cloves garlic, thinly sliced
4 ounces sliced mushrooms
2 tablespoon nutritional yeast (available at health food stores and some grocery stores near the flour)
4 tablespoons all purpose flour
1 ½ cups unsweetened soy milk
Coarse sea or kosher salt to taste
White pepper to taste
Optional garlic salt or powder to taste
Optional onion powder to taste
1 2/3 cups French's Fried Onion Rings in a can, divided into 2/3 cup and 1 cup
Preheat oven to 350 degrees. Oil a 1 ½ quart casserole dish. In a large cast iron skillet or heavy saucepan over medium-high, heat olive oil to shimmering. Add onion, celery, garlic and a pinch of salt, and sauté, stirring frequently, until they begin to soften. Add mushrooms and sauté, stirring frequently, until softened. Meanwhile dissolve flour in a few tablespoons of the milk. When vegetables are soft, sprinkle with nutritional yeast and stir well to coat. Add flour and milk mixture plus remaining milk, stir well, and cook for about 3 minutes or until mixture thickens and flour loses its raw taste. Season to taste with next four ingredients. Remove from heat and stir in green beans and 2/3 cup onion rings.
Spoon into oiled baking dish and bake for 30 minutes. Remove from oven, gently stir, sprinkle top with remaining onion rings and return to oven for 5 minutes. Serve immediately, if possible, so that onion rings are crispy. To do ahead: bake casserole for first 30 minutes, cool to room temperature, and store, covered with foil, in the refrigerator. Reheat in a 350 degree oven, covered, and, when hot, uncover, top with onion rings and bake an additional 5 minutes.