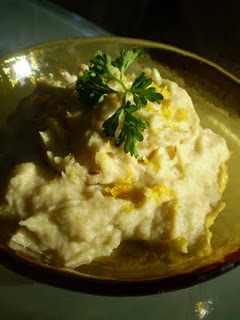 Yield: 4 servings (easily doubles)
It was with my creation of this vegan dish of deluxe creaminess that my love affair with parsnips began. It's beautiful on the holiday table or just on a T.V. tray!
4 parsnips, peeled, ends trimmed, and cut into ½" thick slices
Unsweetened soy milk
1 tablespoon olive oil
1 small onion, peeled, and diced
2 medium-large cloves garlic, thinly sliced
1 tablespoon vegan butter
1 tablespoon vegan sour cream
Zest of one lemon
Coarse sea or kosher salt to taste
White pepper to taste
Optional garlic salt or powder to taste
Optional onion powder to taste
Optional Garnish: parsley and additional lemon zest
Lay parsnip slices into large cast iron skillet and pour in enough soy milk to just barely cover the slices. Heat over medium-high to simmering and continue simmering until parsnips are tender and milk has cooked down and thickly coated the parsnips; this may take about 20 minutes. Remove from heat. Meanwhile, in a medium cast iron skillet over medium-high, heat olive oil to shimmering. Add onion, garlic and a pinch of salt, and sauté until vegetables are softened and golden. Place parsnips, any remaining milk, onion and garlic into the bowl of a food processor fitted with a metal blade. Add remaining three ingredients and process until smooth, scraping down bowl with a spatula as necessary. Taste and adjust seasoning with salt, pepper, and optional garlic salt and onion powder. Transfer to a serving bowl and garnish with parsley sprigs and additional lemon zest. If you are not serving the dish immediately, cool puree to room temperature, cover and chill without garnishes. When ready to serve, reheat in microwave, garnish and serve.