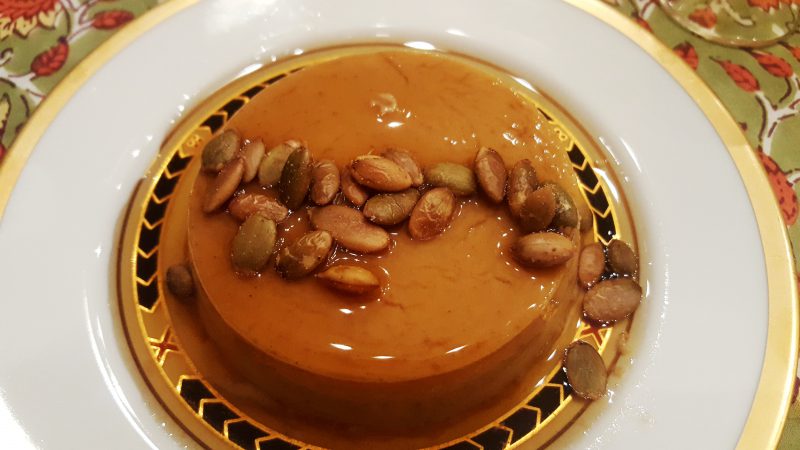 After my husband, Joe passed away, I joined with friends–old and new–to create a number of new traditions, among them in–home dinners with all-in gourmet cooks, Juan and Barbara Gelpi. How fun to, as of September, fold my extraordinary new partner, Bob, into the mix.
Most recently, we convened at the Gelpi's lovely home to cook and consume a delightful fiesta of homemade pico, guacamole and chips with Coronoas shots of tequila (for Juan and me–my first in my entire life, late bloomer that I am), tortilla soup with roasted pepitas–veganized from a recipe my mother got from the Mansion on Turtle Creek in Dallas–Juan's seitan mole over herbed rice, homemade tortillas, and, for dessert, Barbara's apple-oatmeal crisp and my flan.
I adapted it from a recipe I found online, adding the pumpkin, spice, and more agar to make sure it set properly with the additional liquid from the pureed pumpkin. I also tinkered with the caramel to make sure my preferred sugar–demerera–dissolved. The results were a huge carnivore-approved hit: absolutely delicious with an incredible texture. The genius of this recipe, for which I cannot take credit, is to create a cold custard that sets up beautifully, rather than a baked one which is very tricky when no eggs are used.
Betsy's Pumpkin Flan
For the Caramel:
1/2 cup granulated sugar (I use demerera)
1 to 2 tablespoons water
Place the sugar and water in a saucepan and let dissolve for a few minutes. Then place over medium heat, stirring until melted. The demerera will already be golden in color, but if using granulated sugar, cook until golden. Pour into the bottom of 6 ramekins.
For the Custard:
2 cups plain soy milk
1 tablespoon + 1 teaspoon agar-agar flakes
1/2 cup firm or extra-firm silken tofu (I used firm)
1/2 cup canned pumpkin puree
1/2 cup granulated sugar (I use demerera)
1 tablespoon vanilla extract
1/2 teaspoon cinnamon
1/8 teaspoon ground cloves
Pinch of salt
Pour the soymilk into a medium saucepan and sprinkle with the agar flakes. Let sit for 10 minutes. Bring to a boil, then reduce heat to low and cook, stirring often, for 5 minutes, or until the agar has dissolved. Don't worry if the milk breaks and separates. It will come together in the food processor.
Place the tofu, pumpkin, sugar, vanilla, cinnamon, cloves, salt, and soymilk-agar mixture in a blender and blend until very smooth. Pour into the ramekins over the syrup, cover with plastic wrap, and refrigerate for at least 1 1/2 hours.To remove from the ramekins, run a knife around the edge of each and dip the bottom in hot water for about 15 seconds. Invert a desert plate on top and turn out.