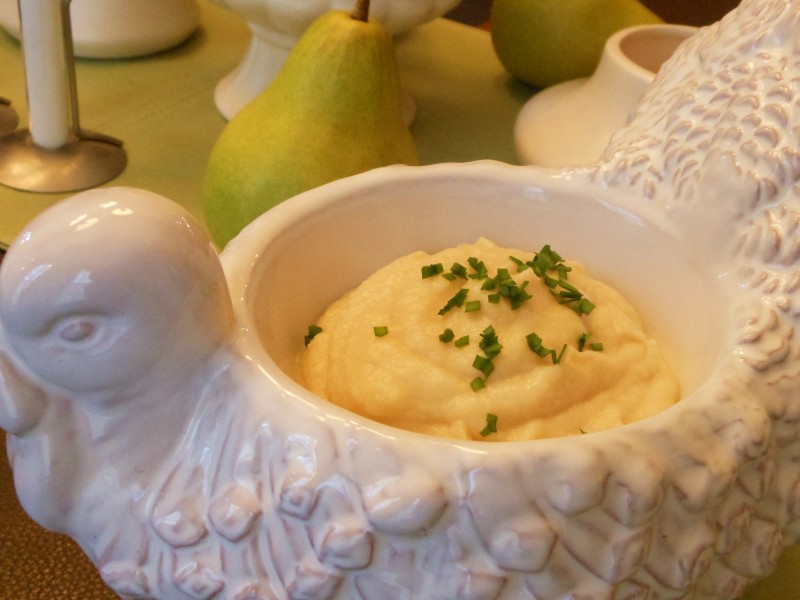 Yield: 4-6 servings
I'll just confess right off the bat that I have no specific proportions for this dish inspired by my dear friend Yvette Hetrick.  For some of you, the lack of a precise formula may come as a great relief, as you can ad lib to your heart's content.
I started off keeping track of what I was adding for flavor.  However, since I was working in 3 batches for the number of guests we had for Thanksgiving–and since I kept adjusting–I gave up at some point.  (And, by the way, a double recipe would have been plenty for 8 people; I enjoyed lots of leftovers!)
So, following is all you need to know to veganize this old "Weight Watchers" standard to suit YOUR taste.  Don't let the dish's dietary "roots" turn you off; it's just that, ounce for ounce, cauliflower has far fewer calories than potatoes.  However, by the time I get finished doctoring it up, I'm not sure how many fewer calories it actually has.  But it does have it's own unique flavor somewhere between cauliflower and potatoes.  And for that reason alone, it's a keeper.  By all means, feel free to go easy on the 'butta, sour cream and such, and then you can reap the low-cal benefits.
Be forewarned: cauliflower is LOADED with fiber, so it is very easy to feel overly full after a moderate portion of this dish.  Of course, you could just exercise some portion control, but it is so tasty that that is easier than it sounds!
4 cups water
Sea salt
1 large head of cauliflower, cored, broken into florets, rinsed and drained
1 head roasted garlic (rub whole head with olive oil and roast at 350 degrees for 20-30 minutes or until very soft)
Any or all of the following in whatever proportions you desire; let taste be your guide: vegan butter, vegan sour cream, vegan cream cheese, and nutritional yeast (do NOT omit the cheesy "nooch"!)
Pinch white pepper
Optional garnish: snipped fresh chives
In a 4-quart covered saucepan, bring generously salted water to a boil.  Add cauliflower, loosely cover pan, and gently boil for about 6 minutes, reducing the heat if necessary.  Drain cauliflower and WHILE IT IS STILL WARM (that is very important), add half the head of garlic and season to taste with vegan butter, sour cream, cream cheese, nutritional yeast, additional salt, and white pepper.  If desired, add some or all of the remaining roasted garlic.  Serve warm garnished if desired.