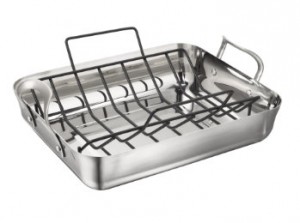 This roasting pan was a Christmas gift I requested from my dear parents at their insistent urging.  After conducting some research, I chose Calphalon's Stainless Steel Roasting Pan with Rack (16 x 13.5 x 3.75″), largely based on a Cook's Illustrated recommendation.
I place a lot of "stock" in anything Cook's says, such as:  "Stainless steel is attractive, nonreactive, lightweight, and relatively durable. It's also a poor conductor of heat, making it no surprise that our two top-performing pans featured an aluminum core inside the stainless steel."  The pan's outstanding conductivity means perfect and consistent browning.  And the pan's highly reflective interior means  changes in the food being roasted are easy to discern so that the cook can achieve precisely the desired color.  Though I will never brown a turkey or a roast in this pan, I still love having it for seeds, nuts and veggies.
I intentionally purchased a pan without a nonstick coating and, as its maiden voyage proved today, with a good slick of olive oil, nothing even thought about sticking to it.  It cleaned up easily and brilliantly with a non-abrasive sponge and liquid dishwashing soap.  While it is dishwasher safe, it would take up a lot of room.  Note: Avoid using non-stick spray, as it will discolor the pan and is purported to be nearly impossible to remove.
One minor drawback is its size in regard to storage.  My current collection of cookware and the height of this pan's handles prevented it from fitting in our cabinets.  But, no worries: it slipped between the fridge and upper cabinet neatly and with room to spare.  And because it is so handsome, I don't mind a bit of it showing.