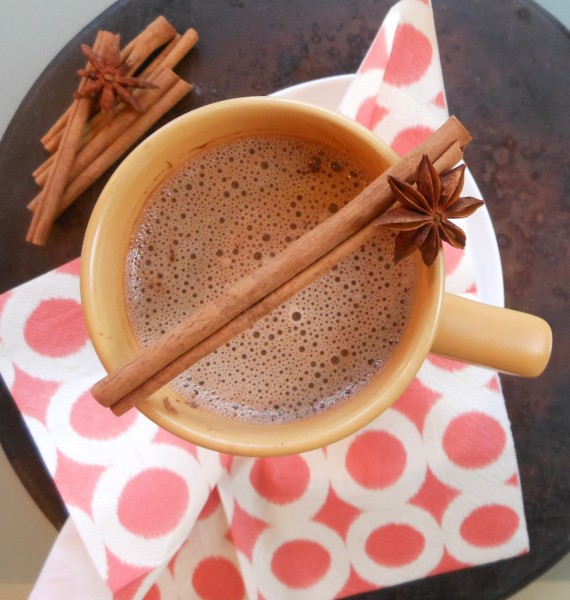 Though my Countdown ended yesterday, I promised a "Beverage Bonus" recipe today.  Enjoy it while you are preparinig your Valentine my Red Velvet Pancakes, or anytime tyou need to warm body and soul.
When Navitas Naturals kindly sent me their Cacao Powder to test, I thought to myself, "Really?  How much difference can there be between their product and my grocery store variety?"  The answer is "Considerable."
My hunch is that when cocoa powder is one of a number of ingredients in a recipe, the difference is less pronounced.  So, I decided to conduct a side-by-side informal taste test of the pure powder.
I moistened my finger, dipped it into my Kroger brand cocoa powder and put it straight in my mouth, closing my eyes and trying to really analyze its flavor.  Then I drank a little water and repeated my test with Navitast Naturals Cacao Powder.  There was a notable difference.  My go-to cocoa powder was extremely mild in terms of chocolate flavor, a bit chalky, and pretty one dimensional in terms of flavor.  The Cacao Powder, on the other hand, had a more intense chocolate flavor of greater complexity and depth without the same chalkiness, not to mention more nutrition and a darker color.
So, Navitas Naturals Cacao Powder?  I'll drink to that.
And here's how I drink it:
Hot Chai Cocoa
1-1 1/2 cup serving (easily multiplies)
Note: I have also made this hot cocoa with other tea, like a Chocolate Hazelnut variety that I like, and it was delicious, with the tea imparting a subtle earthiness.  Use any tea that seems compatible with chocolate: mint, orange, raspberry, etc.
1/2 cup water
1 Chai tea bag (or any flavor you wish)
1 tablespoon agave nectar
2 1/2 tablespoons Navitas Natural Cacao Powder (or, okay, your favorite brand of cocoa powder)
1 cup unsweetened or plain soymilk (or your favorite non-dairy milk; I prefer soy for its protein content)
Place water and tea bag in a large mug and heat on hi in microwave for 30 seconds.  Lift out tea bag, add remaining ingredients, whisking after each, replace tea bag, and microwave for an additional 1 1/2 minutes.  Squeeze tea bag over cocoa mixture, discard bag, whisk mixture again, and enjoy.