Yield: 8 corncakes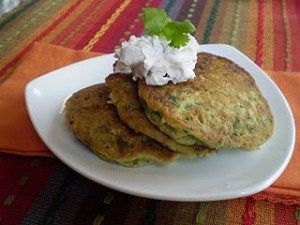 This recipe telescopes me right back to childhood and my Mama's Double Corn Fingers made with creamed corn. She would make a big pan–crusty on the outside and tender on the inside–and we would have nothing but them and a glass of milk, calling it dinner as a special treat when my dad was out of town.
Though "creamed" corn hardly sounds vegan, the canned version actually is, the natural starch in the corn helping impart a luscious creaminess. I love it mostly to cook and bake with. Mama baked her corn fingers, but in my iteration, I fry them up as skillet cakes.
And, though this recipe isn't in my new cookbook, The Blooming Platter: A Harvest of Seasonal Vegan Recipes (175 other delicious recipes are!), I add a mound of fresh baby spinach to the corncake batter for a nutritious burst of seasonal freshness. and flecks of green goodness. In summer, just substitute 1/2 cup fresh corn for the chopped spinach.
These cakes are addicting served as a combined bread-side dish or as the main event for breakfast or brunch. But I also love them topped with chili or my Vegan Spinach-Three Bean Dip. Make them silver dollar sized and serve them as appetizers, topped or not. Use your imagination!
2 tablespoons vegan butter (I like Earth Balance) + additional for frying
1/2 cup self-rising flour
1/2 cup self-rising cornmeal
pinch of garlic powder
2 cups loosely packed fresh stemmed spinach, finely chopped (should yield about 1/2 cup)
1-15 ounce can creamed corn (I like the yellow variety for rich color)
1/2 cup unsweetened soymilk
Optional garnish: vegan sour cream and cilantro sprigs
Preheat the oven to warm. Melt the 2 tablespoons butter in a large cast iron skillet over medium-high heat. In a medium bowl, whisk together, flour, cornmeal, garlic powder and chopped spinach. Whisk in creamed corn and soymilk until well combined. Make cakes, two at a time, using a 1/4 cup measure. Cook for 2 to 3 minutes, flip and cook for an additional 2 to 3 minutes or until golden brown and cooked through. Remove to a paper towel-lined plate and keep warm in the oven. Repeat with remaining batter, keeping skillet greased with additional butter as needed. Garnish as desired and serve warm.