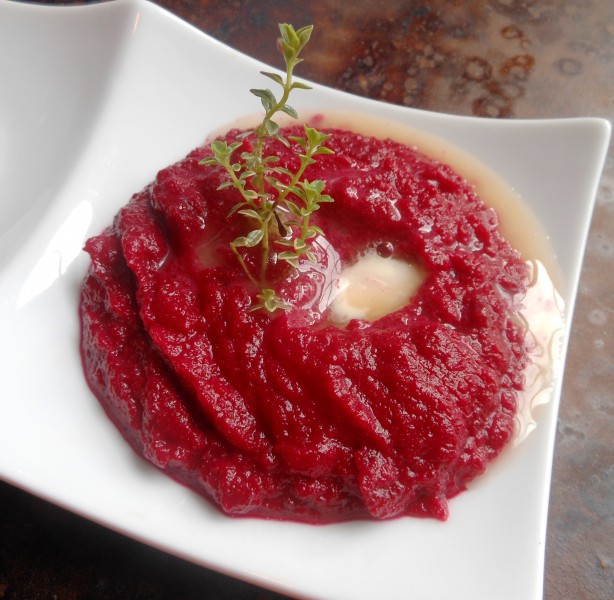 Yield: 4 servings
Saturday night, Joe and I and two other couples celebrated not only the almost-Summer Solstice, but the inaugural dinner of our Starlight Supper Club (named after the Stardust Supper Club in the small town where I grew up).
The first dinner was hosted by Becky Bump and Reese Lusk, two inspired cooks and highly creative individuals:  Reese is an artist and designer and Becky owns a public relations firm.  I have been fantasizing about the appetizer–and the pie!–ever since and, in fact, we had not been home from the party a full 12 hours before I was roasting beets to make my version of their Beet Bruschetta–genius!  Stay tuned for this recipe on Saturday, June 27.
But I had a lot of beets and remembered that Reese had said that the only way he enjoys beets is in my Beet Muhummara which is, if I so stay so, a spectacular spread.  But I started wondering why beets couldn't be prepared like mashed potatoes, complete with butter, sour cream, cream, salt and pepper.  And they can:  wow!
Mashed beets are beautiful and delicious and, while they still taste like the best of beets, the other ingredients mask that beet-y "whang" that some folks don't care for.
8 "woman's fist size" beets, trimmed, but  not peeled (the beets will shrink as they roast)
olive oil
sea salt
4 tablespoons + 2 teaspoons vegan butter
4 tablespoons vegan sour cream
2 tablespoons plain soy creamer (unsweetened if you can find it)
1/4 teaspoon onion powder
Sea salt and freshly ground pepper to taste
Optional garnish: fresh thyme sprigs
Prheat oven to 375 degrees.  Place beets on a sheet of foil on a baking sheet (to catch any overflow juices), rub with a little olive oil, and sprinkle with just a bit of sea salt.  Wrap and roast for about an hour (check for tenderness at 45 minutes).  Unwrap, allow to cool for about 10 minutes or until comfortable to handle, peel, and cut into quarters.  Put through a food ricer or puree in a food processor with remaining ingredients.  Serve warm, topped with a tiny pad butter (about 1/2 teaspoon) and a sprig of thyme if desired.