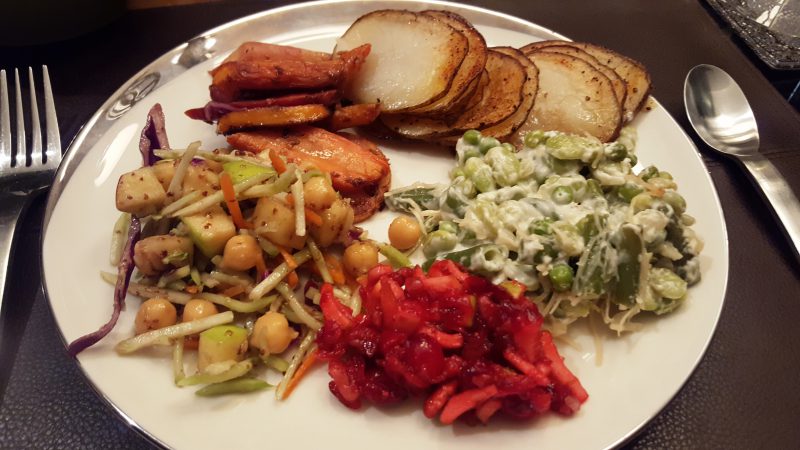 Yield: 4 servings (easily doubles)
This is a bit more old school than my typical fare.  But, this Christmas, I was joyfully cooking for Bob's family, some of whom–including him–have less adventurous palates than I do.
And, I have to admit that I enjoy this kind of "comfort food" from my childhood.  What I wanted to prepare was a dish that my late mother made whenever she and my father grilled flank steak–eek!–but my sister couldn't find the recipe in her recipe files
The dish contained all of these vegetables, but no mayonnaise or cheese.  I can't recall whether her recipe called for onion, nor whether there might have been a hint of Worcestershire or soy sauce in the dish; I might be remembering those ingredients from the marinade.  Regardless, this is a delicious and creamy–if not terribly low calorie–trip down Nostalgia Lane.  And everyone loved it as the perfect green element on our pretty dinner plates.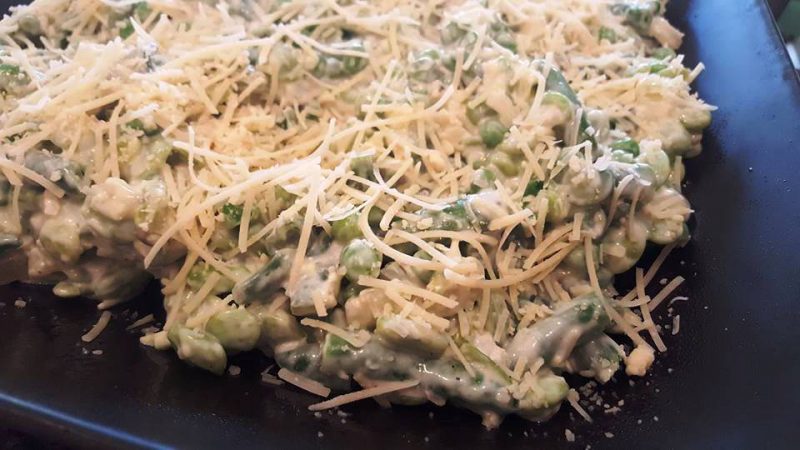 1-10 ounce package frozen green beans
1-10 ounce package frozen lima beans
1-10 ounce package frozen green peas
1 to 2 teaspoons olive oil
1/2 cup diced yellow onion
1/2 cup vegan sour cream
1/2 cup vegan mayonnaise
Sea salt and freshly ground black pepper to taste
1/2 cup grated vegan parmesan cheese (in a bag, not a can)
Preheat oven to 350 degrees.  Cook frozen vegetables according to package directions and drain.  I like to use the microwave.  Drain vegetables. Meanwhile, saute onion in olive oil over medium-highheat  until tender. Stir in sour cream, mayonnaise, salt, pepper, and drained vegetables.  Transfer to the prepared casserole dish.  Sprinkle with parmesan cheese and bake for 20 minutes or until heated through.