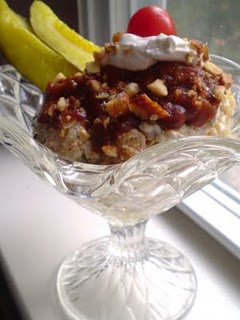 Yield: 6-8 servings
I recently created this recipe in response to a contest. Regardless of whether I win, I have a super-cute new savory side dish served up like a sundae or banana split. (Don't worry…it's not too cute.) The contest sponsors were looking for a side dish to serve with barbecue. When I started thinking about my favorites, I couldn't choose just one, so I combined all the "barbecue side" flavors and textures that I love into an ultra-easy multi-component dish: potato salad, barbecue sauce, dill pickles, a smoky taste, and, I admit it, I like fried food in moderation, so something fried.
In these vegan sundaes, dill pickle spears replace the banana, a Vegan Tater-Tot Potato Salad the ice cream, barbecue sauce the ice cream topping, vegan sour cream the whipped cream, a cherry tomato the cherry, and chopped smoked almonds the chopped pecans. The Tater-Tots yield that crispy texture of fried foods that I love. Of course, you can substitute your favorite potato salad and barbecue sauce recipe or even purchased varieties.
However, I hope you will try my Vegan Tater-Tot Potato Salad at some point, as I think you'll love the taste and texture. Though the outer crust of the potatoes isn't as crispy after the potato salad has sat overnight, it is still appealing and enough different that it doesn't seem like "the same 'ole." (Although, "the same 'ole" is pretty darn good.)
To serve, I used sundae glasses instead of banana boats, as I discovered I don't have any of the latter. (If anyone needs any holiday gift giving ideas for me…) Either way, the presentation is as fun as the dish is tasty.
12-16 dill pickle spears (or 6-8 spears, cut in half)
1 recipe Vegan Tater-Tot Salad, warm (see recipe below or use your favorite potato salad)
1/2-3/4 cup Bloomin' Barbecue Sauce, warm (search my index for this recipe or use your favorite, including a purchased variety)
8-12 teaspoons vegan sour cream
4-6 cherry tomatoes (or 2-3 cherry tomatoes halved, if large)
2-3 tablespoons smoked almonds, chopped
In 4-6 banana split boats or sundae glasses, place two pickle spears (or two halves). For each split or sundae, nestle on top 1-2 scoops Vegan Tater-Tot Salad. Top with 2 tablespoons barbecue sauce, 2 teaspoons vegan sour cream, a cherry tomato (whole or half) and 1/2 tablespoon chopped smoked almonds. Serve immediately.
Vegan Tater-Tot Salad:
6 servings Tater-Tots (approximately 54 "tots")
5 tablespoons vegan mayonnaise
5 tablespoons vegan sour cream
1 tablespoon sweet salad cubes or pickle relish
1 tablespoon maple syrup
1/4 teaspoon prepared mustard
1/4 teaspoon celery seed
1/4 teaspoon garlic salt or powder
1/4 teaspoon seasoning salt
1/4 teaspoon coarse sea or kosher salt
1/4 teaspoon freshly ground pepper
4 stalks celery, finely diced
3 green onions, thinly sliced
1 tablespoon minced parsley
Preheat oven to 450 degrees. Place "tots" on a baking sheet and bake for 10 minutes at 350 degrees. Remove from oven and transfer to another sheet to cool slightly. (They don't need the full recommended cooking time.) Meanwhile, in a large bowl, whisk together next 10 ingredients. Stir in celery, green onions and parsley. When "tots" are just cool enough to handle, break in half into bowl with dressing. Stir together well. Serve warm. Reheat in microwave if necessary.