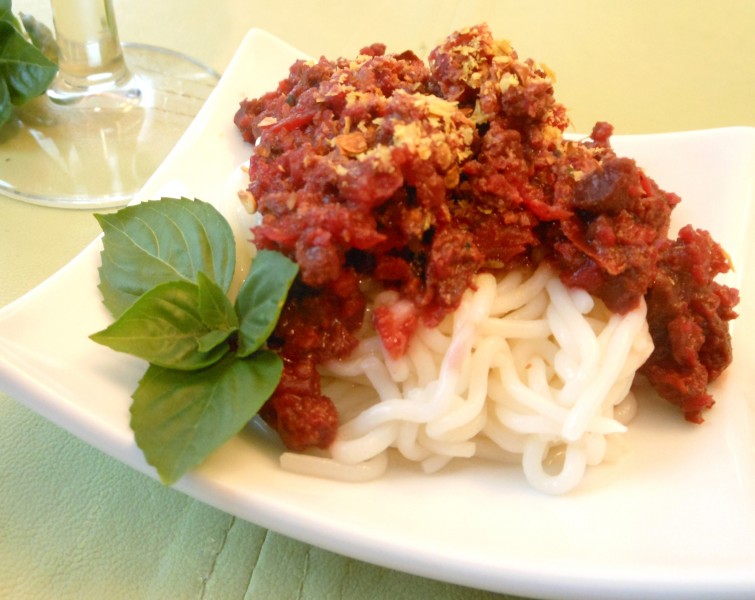 Yield: 8 servings
I love beets!  Roasted, in salads, in my "famous" Beet Muhummara…you name it, I love me some beets!
And they have been beet-iful at the farmer's market lately.  I bought a bunch recently–again–but wanted to do something new with them.  I'm not sure why it occurred to me, but I wondered about a pasta sauce, like a Bolognese.  So I searched online, and found a vegan version, but mine is substantially different and, after a little more research, seems more true to the original…without the meat, of course.
A little chopping is involved, but the recipe goes together quickly and easily and it is well worth it.  Most of the time is hands-free while the sauce simmers.
The optional miso, nutritional yeast, and Liquid Aminos, granted, are hardly traditional, but they add a depth of flavor.  Though they aren't entirely necessary for a satisfying dish, if you have them on hand, I would definitely use them.
Two other tips:  be sure to cook the sauce the full 4o minutes, and avoid omitting the non-dairy milk at the end, as it lightens and mellows the sauce just perfectly.
Otherwise, enjoy over your favorite pasta, including the new Shiratake noodles–very low cal–or cooked zucchini ribbons!  The color is stunning, not to mention the flavor!
A foodie friend claimed that her husband "who never swoons over food" did…all while tasting it cold out of the carton standing over the sink!  But they really loved it heated over pasta as did my Italian friend–another foodie in her own right–who spooned hers over Orecchiette.  None of these folks, by the way, are vegan (though two are vegetarian)!
2 tablespoons olive oil
1 medium yellow onion, diced
Sea salt
1 small carrot, peeled and diced
1 rib of celery, quartered lengthwise and diced
2 large cloves garlic, minced
1 bay leaf, halved
Freshly ground black pepper to taste
1/2 teaspoon garlic powder
1/2 teaspoon onion powder
1/2 teaspoon dried oregano
1 sprig fresh thyme, rinsed (or 1/2 teaspoon dried)
8 ounces vegan ground beef substitute, thawed if frozen (I used Boca Veggie Crumbles; note: if your product is not already browned, brown in a little oil and remove from skillet before beginning recipe.  If you aren't a fan of vegan meat substitutes, consider 8 ounces of cooked lentils, maybe some nice red ones.)
1/2 pound beets, peeled and processed in a food processor until almost a paste
14 ounce can fire roasted diced tomatoes, including juice
1 cup red wine (I used a Bordeaux)
1 teaspoon natural sugar
Optional: 2 tablespoons nutritional yeast
Optional: 1 teaspoon Liquid Aminos
Optional:  1 tablespoon light miso
1/4 cup tightly-packed fresh basil leaves, washed
Optional garnishes: a sprinkling of nutritional yeast and a pinch of red pepper flakes
1/4 cup unsweetened soymilk (or other unsweetened non-dairy milk)
In a large cast iron skillet over medium-high, heat the olive oil, add the onion, and a pinch of sea salt.  Saute, stirring frequently for 2 minutes.  Repeat this procedure with the carrot followed by the celery.  Add the garlic and saute, stirring, 1 minute.  Season to taste with more salt and with some pepper. Stir in remaining ingredients except soymilk.  Simmer, lowering heat if necessary, for 40 minutes, stirring occasionally.  Remove and discard the thyme sprig and bay leaves, stir in the soymilk, heat through, and turn off heat to allow sauce to rest for a few minutes before serving over cooked pasta garnished as desired.