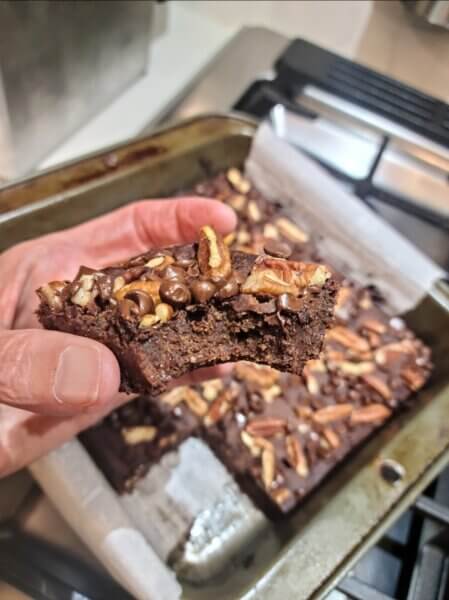 As you peruse recipes for black bean brownies and chick pea blondies–including "best ever" recipes here on The Blooming Platter–you may have asked yourself if you could make rich, fudgy brownies from heart-healthy dark red kidney beans. The answer is a resounding yes!
Yield: 8 to 16 brownies
1-15.5 ounce can dark red kidney beans, rinsed and drained, 11/2 tablespoons liquid reserved
3/4 cup maple syrup
1/2 cup oat flour (I suspect other non-wheat flours would also work)
2 tablespoons cocoa powder
1 teaspoon baking powder
1 teaspoon vanilla extract
1/2 teaspoon almond extract
1/2 cup vegan chocolate chips
1/2 cup pecan pieces
Preheat oven to 350. Spray an 8″ square pan with nonstick spray, line with a 7″ piece of parchment paper or foil allowing it to come up the sides and fold over the edges, spray again, and set aside. In a food processor, process all ingredients' including reserved liquid, except chocolate chips and nuts' until very smooth. Remove blade and stir in about 1/3 cup each chips and nuts. Transfer batter to prepared pan, gently smoothing top, and sprinkle with remaining chips and nuts. Bake 30 minutes or until top is set. Allow to cool completely before slicing. Serve immediately or store tightly covered.
#vegan #veganrecipes #veganfoodshare #veganfoodporn #plantbased #plantbasedrecipes #plantbasedfoodshare #plantbasedfoodporn #vegansofinstagram #vegansoffacebook #vegansofvirginia #plantbasedbrownies #veganbrownies #glutenfreebrownies #redbeanbrownies