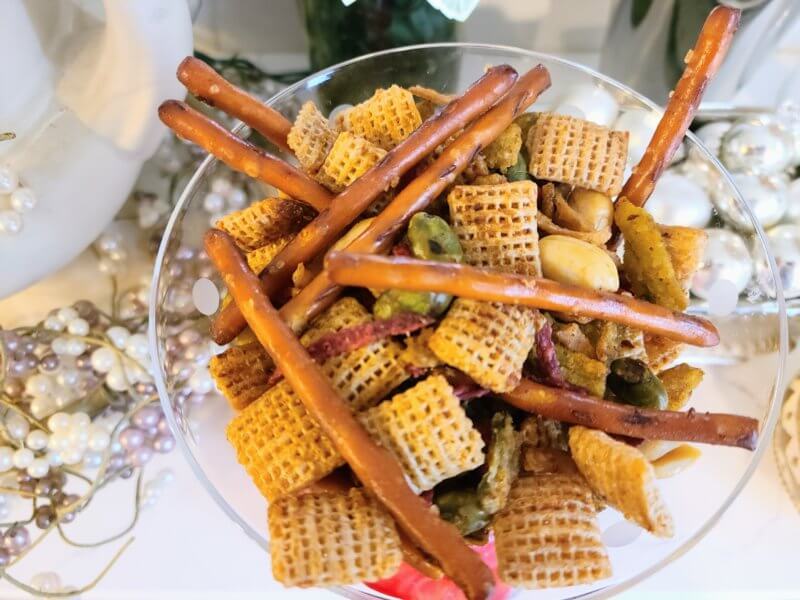 Yield: 4 quarts (16 cups or 1 gallon)
Every Christmas, my late mother made traditional Chex Mix. She would not be at all happy with my messing with tradition.
With apologies to my mother, this year's vegan Sichuan Chex Mix is inspired by my Chinese obsession from Judy's Sichuan in Virginia Beach, VA: Tofu Braised in Hot Chili Oil. Redolent of garlic, ginger, and chilies, this dish features 4 other key ingredients: fried tofu and stir fried jalapeños, red and green bell pepper, and peanuts over Jasmin rice.
I think, though I am not certain, that an elusive flavor in the dish is lent by Sichuan Peppercorn which I purchase st the Asian market and grind myself. Warm, but not hot (to me), this seasoning also adds a very temporary, characteristic, and pleasant lip numbing sensation. The Chex mix is delush with or without.
Seasoning Mix:
1/2 Cup vegan butter
1/2 cup olive oil
2 tablespoons Soy Sauce
2 tablespoons Fried Chili in Oil (sold in a jar on Kroger's Asian aisle)
2 teaspoons grated ginger (I purchase it in a squeeze jar)
1 tablespoon Garlic Powder
1 tablespoon Onion Powder
Optional: 1 to 3 teaspoons ground Sichuan Peppercorn
Cereal Mix:
7 cups Rice Chex cereal
5 cups pretzel sticks
*3.5 ounces crispy fried onions in bag, carton, or can
*3.5 ounces crispy jalapeños in a bag
*3.5 ounces crispy red bell pepper or beets in a bag or carton
4 ounces roasted and salted edamame
1 cup roasted and salted peanuts
*I use Fresh Gourmet brand from Kroger. I wanted bell pepper, but couldn't find them in two stores, so the beets added that red, sweet, and earthy element I wanted.
Preheat oven to 250 degrees. Melt butter in large roasting pan in preheating oven. Stir in remaining Seasoning Mix ingredients followed by all Cereal Mix ingredients, coating evenly. Bake 1 hour, stirring every 15 minutes. Cool completely and package in airtight containers.
#vegan #veganrecipes #veganfoodshare #veganfoodporn #plantbased #plantbasedrecipes #plantbasedfoodshare #plantbasedfoodporn #plantbasedsichuan #vegansichuan #plantbasedchexmix #veganchexmix