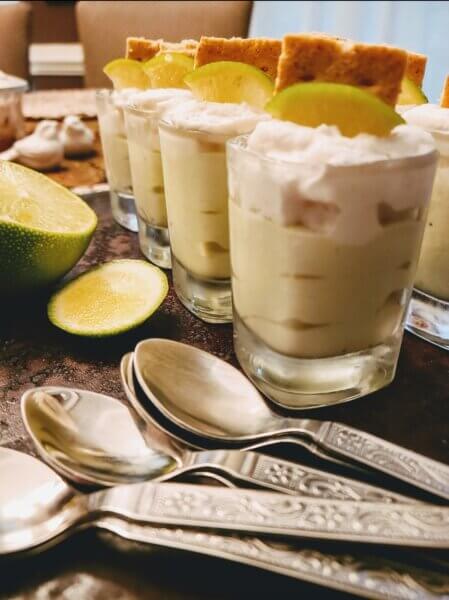 Yield: 8
These light and luscious bites are the perfect, pretty little refresher.
Made from only 7 ingredients and requiring no baking, they are ready when you are. And each cool and creamy treat is only about 220 decadent calories.
Even though key limes are not green, I feel like lime desserts should be, so I add a hint of Macha powder, which doesn't alter the taste.
8 ounces cream cheese, room temperature (I like Tofutti)
1/4 cup natural sugar
5 ounces coconut cream
Zest of 1large key lime or small-medium lime and juice of entire lime/key lime
1/2 teaspoon vanilla extract
Optional: 1/2 teaspoon Macha powder or enough to achieve desired color
1/4 cup non-dairy whipped topping + 1/2 cup for topping
Garnish: Vegan Graham Cracker crumbs or pieces + optional lime slices or zest
With an electric mixer, cream together cream cheese and sugar until smooth. If cream cheese is cold, use a food processor. Beat in remaining ingredients, except whipped topping and garnishes, until completely combined. Fold in whipped topping. Divide among 8 very small cups–I like clear glass–not much bigger than a shot glass. Top each with about 1 tablespoon of remaining whipped topping. Refrigerate until serving time. (I store them in a lidded carton.) Garnish as desired and serve.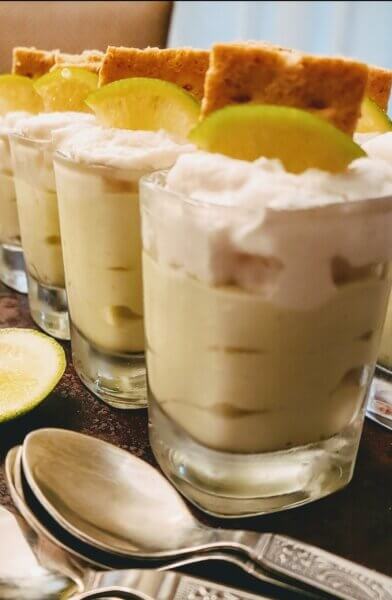 #vegan #veganrecipes #veganfoodshare #veganfoodporn #plantbased #plantbasedrecipes #plantbasedfoodshare #plantbasedfoodporn #vegansofinstagram #vegansoffacebook #vegansofvirginia #plantbasedminipie #vegannobakepie #plantbasednobakepie #veganminipie #plantbasedkeylime #vegankeylime