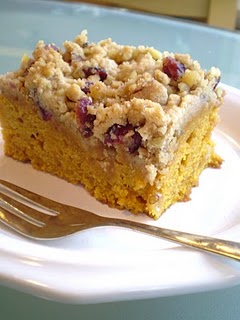 Yield: one 9 x 13″ cake
This is the moistest cake you may ever eat. And it becomes even more so as it sits (well covered of course).
The cake was inspired by a recipe I saw for a dried cranberry-nut pumpkin cake. I didn't think the dried cranberry and nuts sounded very good in the batter. So, thinking that I wanted to make something that didn't require frosting, but that was more than just a "naked" cake, I thought of a streusel topping. Then it occurred to me that I could add the dried fruit and nuts to the streusel. Eureka! Goldilocks would agree that the combination is just right.
I crave this cake perhaps most especially at breakfast because it functions well as a coffeecake. But I hope you will enjoy it anytime you please!
For this recipe and some 170+ more,
I invite you to purchase my first cookbook:
The Blooming Platter:
A Harvest of Seasonal Vegan Recipes
Vegan Heritage Press
Spring 2011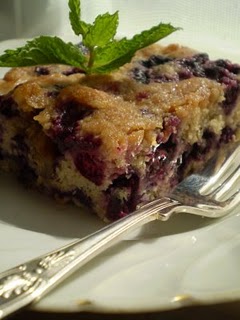 Yield: 1-9×13″ coffee cake or approximately 12 pieces
Our friends Jeff and Debbie invited us and a few other adults and kids up to their beautiful farm on the Eastern Shore of Virginia on July 5 to pick blueberries and raspberries. A steady rain didn't deter the most intrepid among us, but I didn't pick quite as many berries as I did last year. Still, I had enough to make this moist coffee cake that I created with last year's haul, inspired by, of all people, the prince of pork fat, Emeril Legasse. Never fear, my recipe contains nothing that came from a pig nor any other four-leggeds.
For this recipe and some 170+ more,
I invite you to purchase my first cookbook:
The Blooming Platter:
A Harvest of Seasonal Vegan Recipes
Vegan Heritage Press
Spring 2011