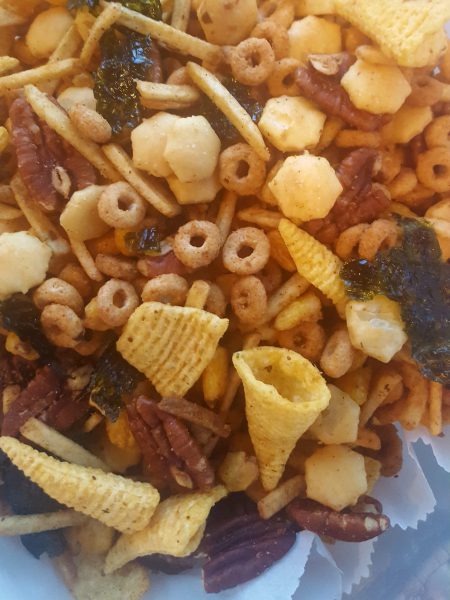 I love the idea of a "seafood" boil…if it just weren't for the seafood.
Give me a big sea salted pot of red potatoes and corn on the cob seasoned with Old Bay, steamed, drained, and dumped out onto newspaper- covered picnic tables in a sandy setting near sunset and I have would be perfectly happy.  Forget the shellfish.
And that is exactly what this iteration of my beloved global- and Americana-inspired Chex Mix evokes.  I use potato sticks–sold on the snack food aisle–as a nod in the direction of the small red potatoes and both corn nuts and Bugles to be reminiscent of corn on the cob.  But, if you can't find corn nuts–I can find them at Whole Foods and sometimes Kroger–you can substitute more Bugles or some Corn Chex Cereal.  Oyster crackers remind me of every seafood restaurant I have ever dined in while adding texture and helping extend the mix, as do the Cheerios with their irresistible shape.  And I include pecans just because they seem so Southern, I love them, and every snack mix worth it's, um, salt needs nuts.  Peanuts would be a less expensive and still very tasty and southern substitute.
From where, you may ask, does that kiss of the sea come?  Ah, that's easy: roasted seaweed sheets.  I use Gimme brand sea salt or toasted sesame flavored organic sheets which I find at Whole Foods.  But a grocery store variety of Nori will work just great.  Gently crumbled and torn with your fingers, roasted seaweed is absolute perfection in this mix.  Plus, into the vegan butter base, I blend vegan tartar sauce–I use a tofu-based homemade variety, but a commercial brand would be just fine–lemon juice which I associate with seafood, and soy sauce which, for some reason, seems much more "seafoody" and less Asian in this mix.  I promise that the tartar sauce does not make the mix heavy. Quite the opposite: the end product emerges from the oven crispy and lightly toasted snack-worthy perfection.
My omnivorous friend and her seventeen year old omni son with whom I gifted it yesterday (she had agreed to let me feature her "Mom Cave" in a freelance story) thought it was outstanding and I hope you do.
Vegan Chesapeake Bay Seafood Boil Chex Mix
1/2 cup vegan butter
1/4 cup vegan tartar sauce (purchased or homemade; mine is homemade)
Juice of 1/2 medium lemon
1 tablespoon soy sauce
3 tablespoons Old Bay seasoning (sometimes called Chesapeake Bay seasoning)
6 cups Cheerios
10 ounces oyster crackers
1/2 7.5 ounce bag Bugels
4 ounces Potato Sticks
2 cups corn nuts (or 2 additional cups Bugles or 2 cups Corn Chex Cereal)
6 ounces pecan halves
.35 ounces roasted seaweed sheets (I use Gimme brand sea salt or toasted sesame), crumbled and/or torn into coarse pieces)
Preheat oven to 250 degrees. Place vegan butter in a large roasting pan and place pan in oven for a few minutes until butter is melted. Remove pan from oven and whisk in vegan tartar sauce, lemon juice, soy sauce, and Old Bay seasoning. Then, in the order listed, gently stir in the remaining ingredients. Place the pan back in the oven and bake mixture for 45 minutes, gently stirring every 15. Let cool completely and then package in airtight containers.