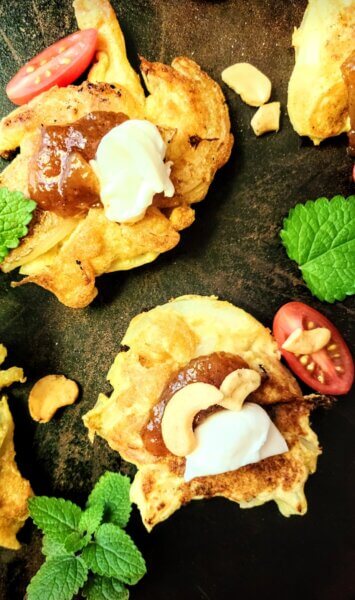 Yield: 4 fritters (easily multiplies)
The larder was pretty bare but I needed a bite of lunch that was plant-based, interesting, satisfying, and beautiful. We had yellow onion and one tablespoon of chickpea flour which was was about all I needed for a lite vegan lunch on the fly. But these would be tempting appetizers as well.
1/2 yellow onion, sliced into slivers
1 tablespoon chickpea flour
3/4 teaspoon baking powder
1/2 teaspoon sea salt
1/4 teaspoon ground cumin
2 tablespoons water
Garnishes: chutney, plant-based raita, cashews, mint leaves, cilantro, etc.
With a fork or spoon, combine all ingredients in a medium bowl. Heat skillet sprayed liberally with nonstick spray over medium heat. Divide divide fritter batter evenly into 4 disks a couple inches apart. Cook for a minute or 2 on first side, flip with a spatula, and cook a couple minutes more. Serve warm, garnished as desired.
#vegan #veganrecipes #veganfoodshare #veganfoodporn #plantbased #plantbasedrecipes #plantbasedfoodshare #plantbasedfoodporn #vegansofinstagram #vegansoffacebook #vegansofvirginia #plantbasedpakora #veganpakora #plantbasedindian #veganindian