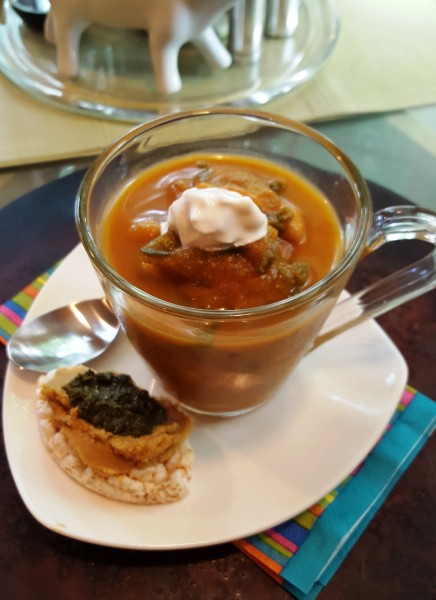 Yield: 4 to 6 servings
Contrary to my best intentions, I am not posting as much as I'd hoped since my husband passed away–suddenly and unexpectedly–on July 30…
…but I hope when I do, the recipes are worth waiting for.
As those of you who have experienced a loss such as this know, it's a game-changer.  And, while we basically understand the rules of the game, we don't know–and can't necessarily anticipate–how they will play out, both in positive and negative ways.
I knew I would be busy with schoo, once it started on September 8, and my freelance work.  But, add to the mix a pair of 8 1/2 month old puppies (my dear, dear Minnie passed away less than a month after Joe); the administration of Joe's estate; and a fuller, more diverse, and less predictable social life than I was accustomed to (I'm "trending," don't you know–ha!), and time has a way of ticking past, albeit in very meaningful ways, though sometimes with a steep learning curve.
However, I deeply value this blog and the opportunity to, not only share recipes with all of you but to connect with you arouond food, so I hope you will forgive me the infrequency of posts as I figure out how to achieve balance.
Speaking of that less predictable social life…last night, I served this impromptu soup–inspired by a recipe in my latest Southern Living Magazine (worth the subscription just to read Rick Bragg's "Southern Journal" essay in the back of each issue)–to two girlfriends, one of whom brought her guitar, played a mini-concert in my breakfast room, and spent the night.  What a beautiful, beautiful gift.  This woman's spirit is infused with magic.
The soup was a hit.  So, as the weather begins to turn colder, nourish body, mind, and soul with a cup of this nutritious deliciousness.  On the side, I like to serve a rice cake topped with one of my vegan cheese spreads (search this website for lots of tastt options) and a dab of my friend Rich's chimichurri.  It's the perfect mini-meal and, remember, I have proclaimed this the Year of the Mini-Meal.
1 tablespoon olive oil
1 yellow onion, diced
1/8th teaspoon salt + more to taste
2 large gloves garlic, minced
1 tablespoon sugar (I use demerara)
1/2 teaspoon onion powder (I love its sweetness)
1/2 teaspoon coriander
3/4 teaspoon ground cumin
3/4 teaspoon smoked paprika
1-15 ounce can pureed pumpkin (not pumpkin pie mix)
4 1/2 cups vegetable broth or stock (I use one called a "no-chicken" broth that tastes richer to me) OR 4 1/4 cups vegetable broth and 1/4 cup red wine
2 tablespoons nutritional yeast
2 to 3 cups chopped fresh kale
1-15.5 ounce can rinsed and drained cannelini beans
Optional garnish: dollops of vegan sour cream or crema
In a 4 quart soup pot, heat olive oil over medium high.  Add onion and salt and saute, stirring, for about 2 to 3 minutes or until softened and beginning to show color around the edges.  Add garlic and sugar and saute, stirring, until nicely caramelized.  (This only takes a few minutes because of sugar.)  Stir in spices, followed by pumpkin, and slowly stir in liquid and nutritional yeast.  Add kale, a handful at a time, and let it begin to wilt before adding the next handful.  Stir in beans and heat through, stirring occasionally, for about 10 minutes.  Lower heat if necessary.  Taste and adjust seasoning, as you might choose to add more salt–since pumpkin is naturally sweet–cumin, and smoked paprika.  Serve topped with vegan sour cream or crema.