Yield: 12 servings (at least)
Vegans need not forego a rolled cake–for this beautiful buche or any other iteration–if you take advantage of my many experimentations with both ingredients and technique…
I regret that I didn't have time to experiment with this recipe until after Christmas, but it is so exquisitely beautiful and delicious that I can't wait a whole year to share.  Plus, a winter log cake should be appropriate at least through February, no?
Important note:  it is far easier and quicker than it may look from these instructions.  And well worth any effort…
After conducting considerable research online, I chose a recipe for Vegan Swiss Roll on the Allergy Mums website (thank you!), filling it with my favorite chocolate mousse and frosting it with my longtime favorite mocha buttercream.  The creator of the "sponge" claims that it doesn't crack and, indeed, her photo is picture perfect.  However, I found that not to be the case.
Still, my accomplice and good friend, Janie Jacobson, a healthy foods cooking instructor and cookbook author, and I were unperturbed because the luscious frosting hid any cracks completely.
I have now made two of these cakes–one for an impromptu post-New Year's tea party and the other for a postponed 12th Night Party on Saturday night.  It was a rave both times.  But then I made two more rolled cakes according to another recipe and with considerable experimentation on my part in order to perfect the "sponge" to avoid dreaded cracks.
In terms of decorating, yes, I know about aquafaba and have made gorgeous meringues, but I was afraid it might not work for the meringue mushrooms typically used to decorate these yule logs. So I devised my own decoration of sliced almonds to suggest shelf-like mushrooms that grow on tree trunks.  Some sprigs of rosemary and cinnamon sticks lend a woodsy note–with rosemary being a surprisingly enticing aroma with chocolate–and a light dusting of powdered sugar suggests a hint of snow.
Someone told me it was the prettiest Buche de Noel she'd ever seen and another that it was my best dessert creation yet. That makes this recipe good enough to share with you.
Vegan Buche de Noel
1 cup soy or other non-dairy milk
2 teaspoons apple cider vinegar
2 tablespoons flaxseed meal
1 1/4 cups all purpose flour (I use white whole wheat)
3/4 cup natural granulated sugar (I use demerera)
2 tablespooons cornstarch
3/4 teaspoon baking powder
3/4 teaspoon xanthan gum
1/2 teaspoon baking soda
1/2 teaspoon salt
1/3 cup canola or other neutral vegetable oil
1 tablespoon vanilla extract
Vegan Chocolate Mousse (recipe follows)
Vegan Mocha Buttercream (recipe follows)
Garnishes: sliced almonds, rosemary sprigs, cinnamon sticks, powdered sugar
Preheat oven to 350 degrees.  Spray a rimmed 10 x 15″ pan with non-stick spray.  Line with one sheet parchment paper and spray lightly again.  Sprinkle a tea towel with a little powdered sugar in a 10 x 15″  rectangle.  Set aside.
In a small bowl, whisk together soymilk and vinegar, set it aside to curdle for a couple of minutes, and then whisk in flaxseed meal, making a thickened vegan buttermilk.  In a large bowl, whisk together flour, sugar, cornstarch, baking powder, xanthan gum, baking soda, and salt.  Make a well in the center and pour in canola oil, vanilla extract, and soymilk mixture.  Whisk together for 100 strokes until smooth. (Whisking for a portracted time like this will develop gluten and, hence, structure.)  Transfer batter into prepared pan and gently smooth into corners.  Bake for 12 to 13 minutes or just until a wooden pick inserted in the center comes out clean.
Allow to cool in pan for 3 minutes and then invert onto prepared tea towel.  Carefully peel off parchment paper.  With a very sharp knife, trim 1/8 inch of cake from all the edges which tend to be a little dry and may prevent smooth rolling.  Working from a long side, fold the excess inch or so of towel over the edge of the cake and carefully roll up like a jelly roll.  Tuck edges under and allow cake to cool completely on a wire rack.  Carefully unroll, avoiding trying to flatten the cake completely.  Gently spread with Vegan Chocolate Mousse.  Reroll and place seam side down on a serving platter, nestling it onto a flattened side from the previous rolling.  Cut off both ends at a diagonal and position cut pieces to resemble sawed off limbs.  Frost with Vegan Mocha Buttercream Frosting.  Lightly drag a fork lengthwise down the trunk and cut branches to resemble bark.  Garnish as desired with sliced almonds, rosemary sprigs, cinnamon sticks, and powdered sugar.
Tent with foil and refrigerate until about 30 minutes before serving time.  Slice with a sharp or serrated knife.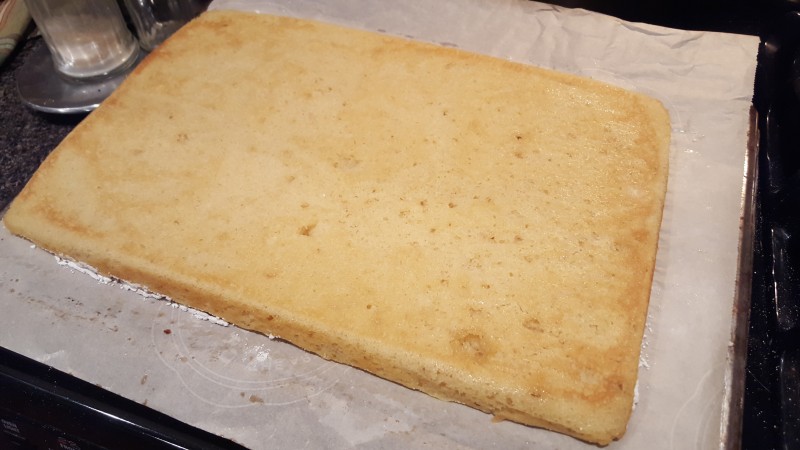 Vegan Chocolate Mousse
I recommend that you make the mousse 2 hours in advance in case it needs to set up, as tofu varies considerably from brand to brand.
6 ounces extra-firm silken tofu, gently pressed and blotted (if you cannot find extra firm silken tofu, use whatever silken tofu you can find, but be prepared to add two additional ounces or refrigerate for 2 hours to allow it to set up before filling buche)
1/4 cup natural sugar (I like demerara)
6 ounces vegan semi-sweet or bittersweet chocolate, melted and cooled until almost room temperature (the chocolate should be very thick but still spoonable)
1/2 teaspoon vanilla extract
1/8 teaspoon almond or peppermint extract
Pinch sea salt
Place tofu and sugar into food processor and process until very smooth, scraping down the sides of the bowl with a rubber spatula as needed. Add the melted chocolate, extracts, and a pinch salt. Process for several minutes until smooth, scraping down sides of bowl as necessary.  Texture should be very thick and creamy. If too thin to hold it's shape, process with two more ounces of tofu and/or refrigerate, covered, before filling buche.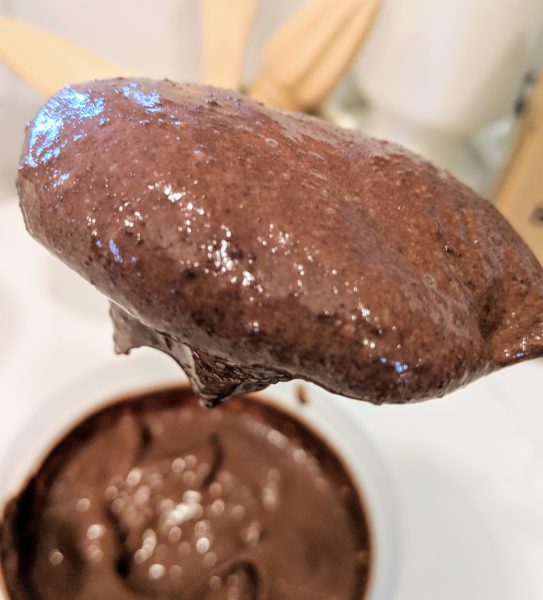 Vegan Mocha Buttercream Frosting
1/3 cup vegan butter, softened
1 tablespoon + 1 teaspoon instant coffee dissolved in about 2 teaspoons of water (I have also used a Starbucks espresso pod, torn open, and sprinkled in undissolved which works beautifully)
1 tablespoon cocoa powder
3 1/2 cups confectioner's sugar
2 to 3 tablespoons non-dairy creamer (soy, coconut, etc.)
1/2 teaspoon vanilla extract
In bowl of an electric mixer, cream butter with coffee and cocoa powder.  Turn mixer off, add 1/3 of confectioner's sugar and a tablespoon of creamer, and beat until creamy.  Repeat with remaining confectioner's sugar and creamer, ending with last third of sugar scraping down sides of bowl as necessary.  Adjust consistency with additional confectioner's sugar or creamer as desired.  Beat in vanilla until incorporated.   If a darker color is desired to contrast more with almonds, add more dissolved coffee, cocoa powder, or both.