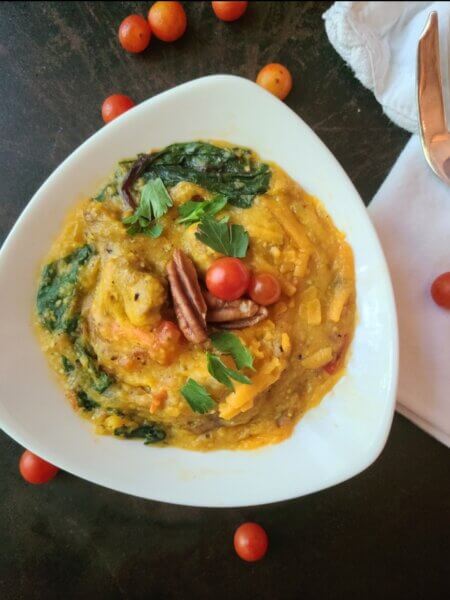 2 cups unsweetened soy milk
2 cups vegetable stock
1 cup stone ground grits
4 tablespoons plant-based butter, divided (I like Miyoko's)
1 teaspoon sea salt
1/2 teaspoon garlic powder
1/2 teaspoon onion powder
1/4 teaspoon black pepper
1 teaspoon Braggs Liquid Amimos
1 1/2 cups grated plant-based cheddar
1 small onion, diced
1 red bell pepper, seeded and diced
1 pound plant-based sausage, crumbled or diced depending on type (I like Gimme Lean for this)
3 to 4 cups loosely packed baby spinach
Optional garnish: chopped parsley, pecans, and tiny or diced tomatoes
*Preheat oven to 350゚. Spray an 8 or 9 inch casserole dish with nonstick spray. In a medium saucepan, bring unsweetened soy milk and vegetable stock to a simmer over medium heat. Stir in grits and 1 tablespoon butter along with salt, garlic and onion powders, black pepper and Liquid Aminos. Cook, stirring frequently, using a whisk if necessary to break up lumps, for 15 minutes. Lower the heat if necessary to keep at a very low simmer.
Meanwhile, in a large skillet over medium, melt remaining 3 tablespoons butter, add onion, bell pepper, and a pinch of salt, and saute, stirring frequently until soft. Lower heat if necessary. Add sausage, breaking up as needed, and cook a few minutes, stirring very frequently, until sausage begins to brown. Turn off heat.
Stir cheese and spinach into grits mixture. Cover to facilitate wilting and melting. Pour grits mixture over sausage mixture and stir well to combine. Transfer to prepared pan, smooth top, sprinkle with remaining half cup cheese, and bake for 12 to 15 minutes.
Garnish if desired and serve immediately or cool, cover, and refrigerate.
*If you prefer, you can stir all of cheese into grits and not bake casserole.
#vegan #plantbased #grits #vegancasserole #plantbasedcasserole #veganfoodporn #plantbasedfoodporn #veganrecipes #plantbasedrecipes #veganbrunch #plantbasedbrunch #vegansofinstagram #vegansoffacebool #southernvegan vegansofvirginia #veganfoodshare #plantbasedfoodshare