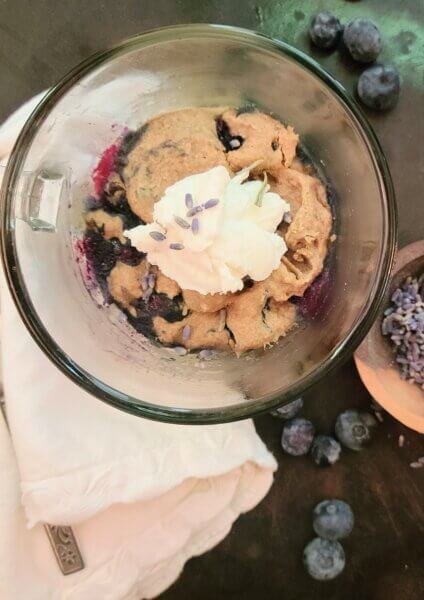 Yield:1 muffin (easily multiplies)
When it's just you and you need something nutritious, filling, and a hint sweet.
1/3 cup oat flour
1/4 teaspoon baking soda
2 tablespoons granulated stevia blend for baking (1:1 sugar to stevia ratio), or to taste
2 tablespoons applesauce
1 tablespoon cashew, pecan, or almond butter
1 tablespoon non-dairy milk
1/2 teaspoon culinary lavender
1/4 teaspoon vanilla extract
1/8 teaspoon almond extract
1/3 cup fresh blueberries, rinsed, drained, and patted dry
Optional garnish: 1 teaspoon vegan cream cheese or sour cream and a few culinary lavender buds
Grease a mug with nonstick spray and set aside. In a small bowl, stir together all ingredients, except blueberries, with a fork until smooth. Gently fold in blueberries. Transfer batter into mug and cook in microwave for about 3 minutes, in 1-minute intervals or until top is set. Garnish as desired. I cook mine in a clear glass mug so I can get the consistency exactly right. Plus, it looks really sparkly and pretty served that way.
#vegan #veganrecipes #veganfoodshare #veganfoodporn #plantbased #plantbasedrecipes #plantbasedfoodshare #plantbasedfoodporn #vegansofinstagram #vegansoffacebook #vegansofvirginia #plantbasedmuffins #veganmuffins #plantbasedmuffininamug #veganmuffininamug #glutenfreemugmuffin