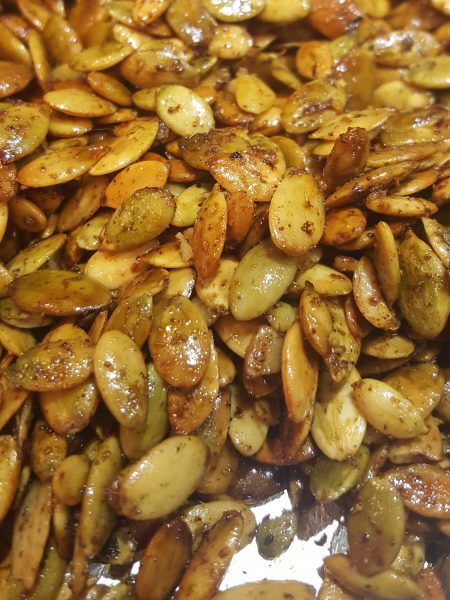 If, like me, you find yourself in need of quick, no-fuss holiday gifts from your kitchen, you and your recipients will love my twist on a classic. The Middle Eastern flavor of za'atar curls up next to a hint of smoked paprika, garlic, and tamarind syrup for an intoxicating savory and slightly sweet flavor combination that is tantalizingly exotic, but not odd.
Za'atar is an aromatic Middle Eastern herb blend of earthy-lemony sumac, oregano, thyme, savory, and sesame seeds.
Package these seeds in pretty canisters or jars…or enjoy them warm right off the baking sheet.
Note: adjust spices if necessary to suit your palate.
4 cups raw pumpkin seeds (I purchased sprouted seeds at Whole Foods)
Non-stick spray
1 to 2 tablespoons olive oil
2 tablespoons za'tar
1/2 teaspoon garlic powder
1/2 teaspoon smoked paprika
Sea salt and freshly ground black pepper to taste
2 tablespoons tamarind syrup (sold at Middle Eastern markets)
Preheat oven to 350 degrees. Spray a baking sheet with non-stick spray (so that less oil is needed).  Spread seeds out in an even layer. Drizzle with oil, sprinkle with remaining ingredients except tamarind syrup, and roast for 10 minutes or until lightly golden brown, stirring half-way through. Remove from oven, drizzle with tamarind syrup, stir well to distribute evenly, cool on wire rack, and package in airtight containers.