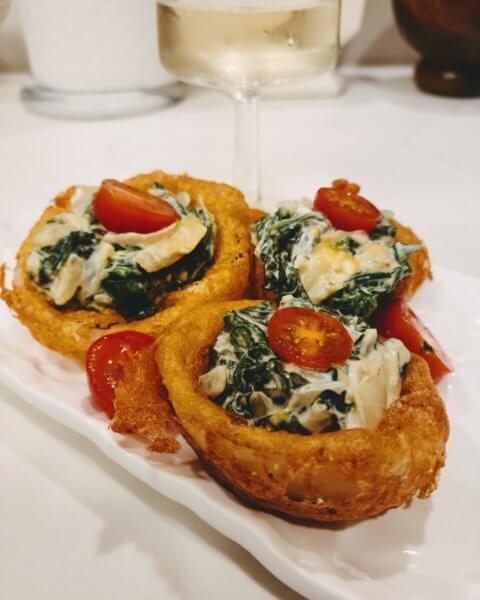 Yield: 2 servings
I have always loved the edible bowl concept, especially miniaturized. Thick beer battered and deep fried onion rings make the perfect cups for fresh garlicky cream cheese spinach. This is a rich dish, so a serving of 3 to 4 is about perfect as a meal.
Beer Battered Onion Rings
1 cup flour (I use white whole wheat)
1 teaspoon onion powder
1/2 teaspoon garlic powder
1/2 teaspoon smoked paprika
1/2 teaspoon baking powder
1/2 teaspoon sea salt
12 ounces beer (search online for a vegan brand you like)
1 large yellow onion
Cream Cheese Spinach Filling (recipe follows)
Garnish: cherry tomato halves
Preheat deep fat fryer or a large pot of oil to 375 degrees and oven to warm if desiresd. In a medium mixing bowl, whisk together dry ingredients and then whisk in beer. Set aside. Peel onion and slice off both ends, reserving flesh for spinach. Cut onion in half crosswise and separate into rings. Dip into batter, coat well, and fry a few at a time, just until golden brown. Drain on paper towel and keep warm in oven if desired. When all rings are fried, arrange on serving plates, fill with spinach mixture, garnish with cherry tomato halves, and serve immediately.
Cream Cheese Spinach Filling
Pinch sea salt
2 tablespoons finely diced onion (I use the onion flesh around the trimmed ends)
4 large cloves garlic
10 ounces fresh baby spinach leaves (or favorite baby greens; I like the Harris Teeter Power Greens)
4 ounces plant-based cream cheese
Cover bottom of a 10-inch skillet with water and a pinch sea salt. Add onion and garlic and simmer, stirring frequently, until softened. Add spinach and wilt, stirring occasionally. Stir in cream cheese until melted and fully combined.
#vegan #veganrecipes #veganfoodshare #veganfoodporn #plantbased #plantbasedrecipes #plantbasedfoodshare #plantbasedfoodporn