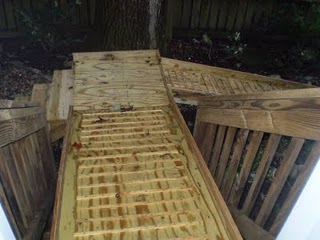 I thought that vegan readers and other dog lovers would appreciate this photo of our new pet handicap ramp and short story: our 16 year old mutt, Webster, has pretty severe arthritis in his hips, despite chiropractic care, Glyco-Flex, Tramadol, Fish Oil (sorry!), etc. He still loves to walk–almost as much as he loves to eat–though it's slow going and our house-sitter refers to the way his hips give out as causing him to "bounce" along.
Our house is built on pilings, so there is no way in except up a few stairs. Traversing the stairs has become a challenge for Webbie, some days more than others. Though I can pick him up because he only weighs 50 lbs. and change, he really doesn't like it.
So, after a recent incident almost causing Web to injure himself, Doug Barnes, a retired neighbor and genius wood-worker agreed to build and install this beautiful ramp system at an unbelievably reasonable price. Webster can now live out his last days with something closer to the independence he has always enjoyed.
Thanks, Doug!