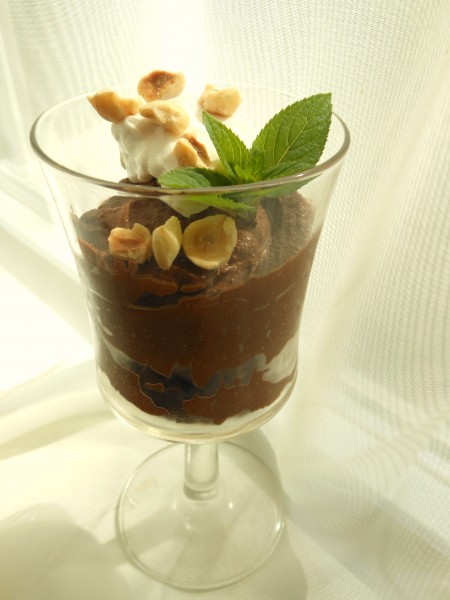 Yield: 4 servings (easily doubles)
Honestly?  You absolutely can't believe how delicious the marriage of chocolate and the deep, fruity flavor of plums is in this quick and easy four-ingredient mousse (which can be served as a tart by spooning it into a pre-baked shell).
This is a four-seasons treat since it is made with plum butter instead of fresh plums.  (Incidentally, fruit butters are misnomers, as they contain no dairy.)  But, since it is mid-summer, you might garnish it with fresh plum slices along with the mint, whipped topping, and hazelnuts.
That is, if you don't consume it all before it makes it into the glasses!
10 ounces vegan dark chocolate, melted (I used chocolate chips and melted them in two 1-minute increments in the microwave, whisking after each)
1/4 box extra-firm tofu, drained and patted dry
1/2 cup vegan soy creamer (I used French Vanilla)
1/2 cup plum butter (I used Bauman's  brand–which may be ordered online–made in small batches in Pennsylvania Dutch country from only plums, sugar or white grape juice, lemons, oranges and cinnamon)
Optional garnish: your favorite vegan whipped topping and/or chopped nuts (I like hazelnuts for this dessert) + mint sprigs
In a food processor, combine all ingredients, processing until smooth, scraping down the sides of the bowl as necessary.  After about a minute, the mousse will be light and fluffy.  After about another minute it will become somewhat denser and darker, yet still silken and fluffy.  Choose our preference.  Divide the mixture among 4 stemmed glasses or small ramekins and enjoy immediately or chill until serving time.
Note:  For individual baked crustless tarts, divide mixture among 4 ramekins coated lightly with non-stick spray and bake in the center of oven for 15 to 20 minutes or until set, but still glossy.  Check after 15 minutes, as tops should not be dry and starting to crack.  Allow to cool before serving, or cover and place in refrigerator until serving time.  Serve chilled.  Garnish if desired.