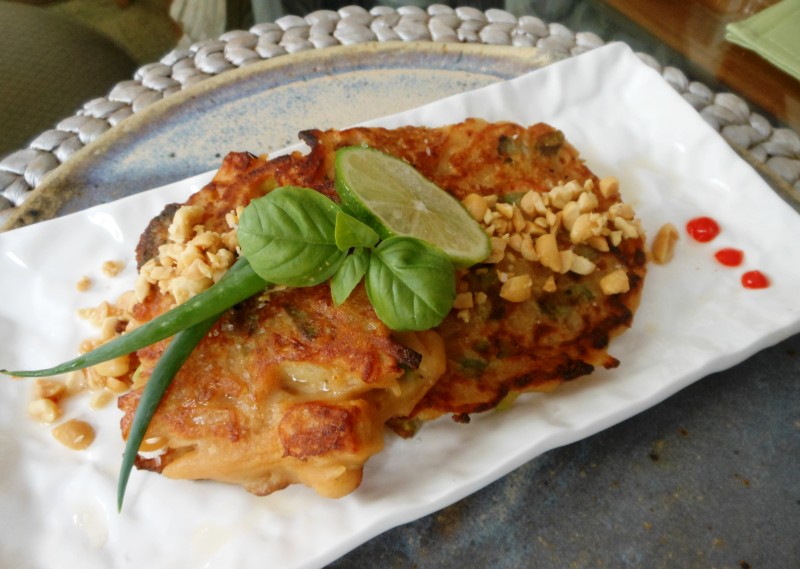 Yield: 4 pancakes (2 main dish or 4 appetizer servings)
I love Pad Thai, but our local restaurant won't serve a lunch size portion at dinner, and a dinner portion is way too much food for one meal.   Heck, it's way too much food for several meals.
So, after bringing home leftovers and enjoying them as is for one meal, I still had a heaping pile remaining.  Recently fantasizing about Vietnamese crispy pancakes, I decided to fold the Pad Thai into a pancake batter made with all purpose flour for structure combined with rice flour for lightness and authentic flavor.
Be forewarned: these are NOT crispy, as you can't fold noodles into pancake batter, even pancake batter made with rice flour and veggie stock, and wind up with a crispy cake.  But, they are still delicious, not to mention easy, filling, and quite pretty.
You could serve any kind of Asian-inspired sauce over the pancakes that you like, but I found a sprinkle of vegan fish sauce with 3 dots of sriracha to be perfect.  The bright red of the sriracha is a snappy color contrast to the green scallion tips, lime, and basil, and a zesty counterpoint to the other flavors.  I thought the three little dots were cute–and just enough to swipe a bit of the pancake through on it's way to my mouth–but drizzle on more or mix it with a peanut-lime sauce if you choose.
Whatever you do, enjoy your restaurant leftovers re-imagined!
1/2 cup unbleached all-purpose flour
1/2 cup brown rice flour
1/3 cup vegan fish sauce (sold as vegetarian in Asian markets)
2/3 cup rich vegetable stock
Pinch sea salt if needed
2 scallions, white and about the same amount green as white, thinly sliced (reserve some of the green tips for garnish if desired)
1 to 1 1/4 cups vegan Pad Thai leftovers, large pieces of vegetables and tofu cut in half, slightly warmed in microwave (mine contained sliced mushrooms, broccoli, green beans, baby corn, carrots, and fried tofu pieces, along with the noodles)
2 tablespoons vegetable oil
Optional garnish: additional vegan fish sauce, green scallion tips, slices of fresh lime, chopped peanuts, sprigs of fresh basil or Thai basil, sriracha
In a medium bowl, whisk together both flours.  Then gradually whisk in vegan fish sauce, stock, and sea salt if needed to make a batter.  Using a fork, fold in scallions, followed by leftover Pad Thai.  Heat 1 tablespoon oil in a cast iron skillet over medium-high, swirling to completely coat bottom of pan.  Using a 1/3 cup measure, scoop up 1/4 of batter and carefully transfer to skillet, smoothing and spreading to about 1/3 to 1/2-inch thick.  Repeat with another 1/4 of batter.  Cook 2 pancakes at a time for about 1/2 to 2 minutes on each side or until golden brown and done all the way through.  Transfer to plates, keep warm and repeat with remaining tablespoon of oil and batter.  Serve immediately garnished as desired with green scallion tips, slices of fresh lime, chopped peanuts, and/or dots of sriracha.