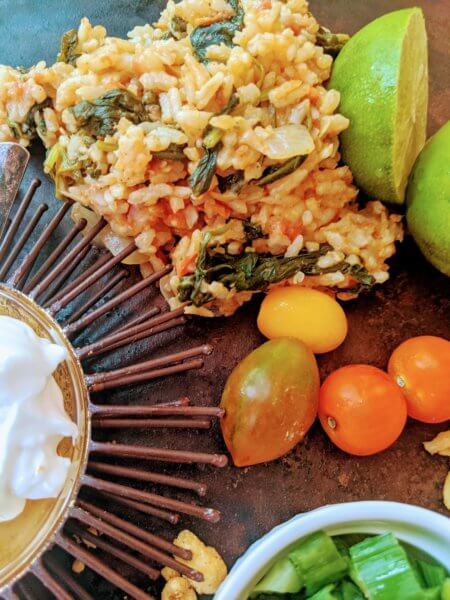 Arriving home at 8 p.m. on Sunday night, and peckish after a (de-alcoholized) wine cruise on our new little boat, I whipped up this mouth watering comfort dish from pantry and fridge staples, including leftover rice from Chinese takeout. Supplementing with shredded cabbage creates a filling dish with fewer calories. This quick and easy dish packs a flavor and texture punch.
1 medium yellow onion, diced
1 teaspoon sea salt
1/2 teaspoon black pepper
1 large clove garlic, minced
1 cup shredded cabbage
Approximately 4 lightly packed cups baby spinach
1-15.5 ounce can diced tomatoes, drained
1 1/2 cups cooked rice
1 teaspoon ground cumin
1/2 teaspoon ground coriander
1/2 teaspoon smoked paprika
1/4 teaspoon ancho chili powder (or your favorite chili powder)
1/4 teaspoon Chipotle chili powder (or, again, your favorite chili powder)
2 tablespoons vegan half-and-half (I like Silk or Ripple brand, but you can substitute vegan sour cream or cashew cream)
2 tablespoons shredded vegan cheese (I like mozzarella, but use your favorite or whatever you have on hand)
Garnishes: vegan sour cream, sliced green onions, halved cherry tomatoes, lime wedges, and peanuts or pumpkin seeds
In large cast iron skillet over medium-high heat, bring 1/4 cup water to simmering. Add onion, salt, and pepper and saute, stirring occasionally, for two or three minutes or until softened. Add garlic and cabbage and continue sauteing for another two or three minutes. Add spinach in two parts, allowing it to steam and shrink in size, folding it in to onion mixture. Add tomatoes and stir to combine. Add rice and remaining spices, stirring and cooking to heat through. Stir in half-and-half and cheese until fully incorporated and hot throughout. Serve garnished as desired.
#vegan #veganrecipes #veganfoodshare #veganfoodporn #plantbased #plantbasedrecipes #plantbasedfoodshare #plantbasedfoodporn #veganMexicanrice #plantbasedMexicanrice