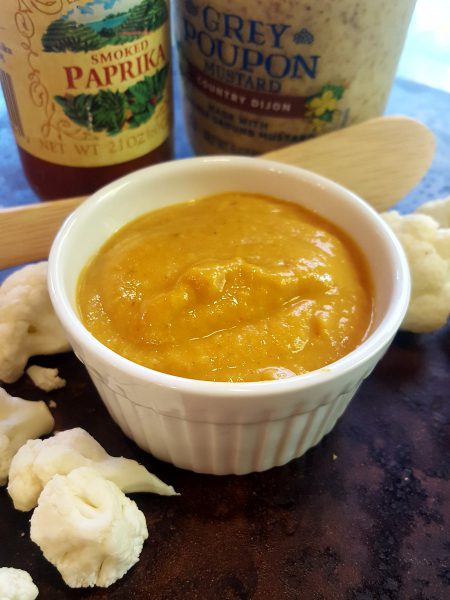 This rich, thick and creamy cheese sauce–which contains no added fat and is ridiculously low in calorie–owes a debt of gratitude to Susan Voisin.  I consulted her recipe, but then tweaked the flavor to suit my taste.  It instantly became a staple in my home.
Angela Phillips, my friend and the owner of the yoga studio where I can be found every Saturday and Sunday morning, came over for happy hour on Wednesday evening, bringing with her some lovely baby Romaine.  So, instead of serving the sauce with a spoon as I'd threatened, I served it with Romaine leaves and waffle-cut carrot slices.  So pretty and delicious.  And Angela, who is not a vegan, loved it, reporting this morning when I saw her at the studio, that the leftovers with which I sent her home were delicious with plain broccoli last night.
Our happy hour would have been practically virtuous except that Bob decided to make some of our famous French fries.  Angela and I allowed ourselves a very few and, boy, were they good dipped in this cheese sauce!  I'm quite sure there is not much that wouldn't be improved with some of this addicting sauce, perfect in taste and texture.  And so easy to boot.
4 cups cauliflower florets
4 cups lightly salted water
Juice of 1/2 medium-large lemon
1/2 cup nutritional yeast
2 tablespoons yellow miso paste
1 teaspoon stone ground mustard
1 teaspoon Liquid Aminos
1 teaspoon garlic powder
1 teaspoon onion powder
1/2 teaspoon smoked paprika
1/2 teaspoon ground turmeric
In a large bowl, combine cauliflower and water.  Microwave for about 10 to 15 minutes or until very tender.  (Alternatively, you may simmer, partially covered, in a large saucepan over medium to medium-high heat.)  Transfer cauliflower and about a half cup of the water into the bowl of food processor.  Save remaining water.  Process until cauliflower forms a thick paste.  Add all remaining ingredients to the bowl of the processor and process until very smooth.  Taste and adjust seasoning as desired. Transfer to a large saucepan and simmer over medium heat until desired consistency is reached, adding remaining water a half cup or so at a time.  Serve immediately as you would any cheese sauce.  It is delicious for dipping, drizzling, or stirring into casseroles and fillings.  Or…eaten with a spoon.
#vegan #veganrecipes #veganfood #veganfoodshare #veganfoodporn #plantbased #plantbasedrecipes #plantbasedfood #plantbasedfoodshare #plantbasedfoodporn