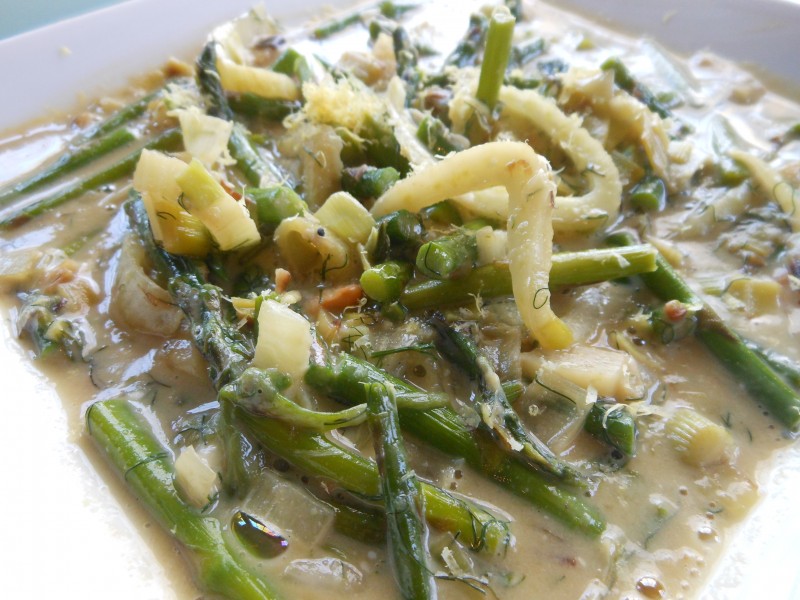 Yield:  2 main dish servings or 4 side dish servings
This simple "stew" is much lighter–in color and heft–than a winter stew and really just refers to the fact that the lovely spring vegetables are married in a creamy, white wine-kissed sauce.  In both texture and flavor, it is addicting.
1 tablespoon olive oil
1 leek, white part only, thinly sliced
1 small-medium fennel bulb, thinly sliced + 2 tablespoons finely chopped fennel fronds
Sea salt
1 large garlic clove, finely chopped
1/2 bunch asparagus (the thinest and most tender that you can find), *trimmed, and cut into about 2-inch pieces
1/4 cup plain non-dairy creamer
2 tablespoons dry white wine
Zest of 1/2 large lemon
Freshly ground black pepper to taste
Heat olive oil in a large cast iron skillet over medium-high.  Add leeks, fennel bulb (not fronds), and a pinch of salt and saute, stirring frequently, for a about 3 minutes or until vegetables begin to soften and turn translucent.  Add garlic and continue to saute for another minute, stirring, followed by asparagus for another 2 to 3 minutes or until tender, but still bright green.  Cooking time will depend on diameter of spears.  Stir in cream, white wine, fennel fronds, and lemon zest, and heat though, continuing to stir frequently.  Season to taste with freshly ground black pepper and additional sea salt.  Serve immediately.
*Trimming asparagus: though this may seem wasteful, grasp one asparagus spear at each end between the thumb and forefinger of each hand.  Pull fingers down to bend the spear until it snaps.  The point at which it snaps is the point at which all spears should be trimmed for the tenderest spears.