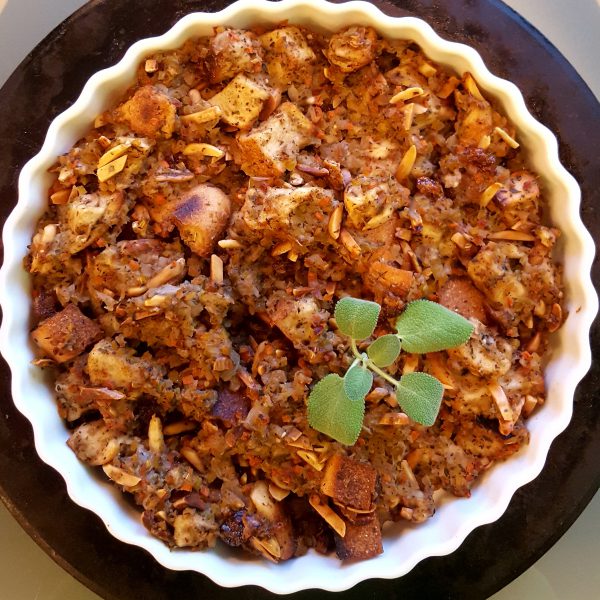 Yield: 8 servings
I will put my new Vegan Sage and Vegetable Stuffing with Dates and Toasted Almonds up against ANY stuffing, vegan or not.  Plus it is low calorie with no added oil.  Happy Thanksgiving!
Preheat oven to 350 degrees.  Oil an 8 or 9-inch casserole dish. Simmer 1/2 large yellow onion and 16 ounces riced cauliflower, broccoli, and carrot in 2 cups vegetable stock with 1 bay leaf, 1 tablespoon rubbed sage, 1 teaspoon dried tarragon, and 1 teaspoon powdered rosemary until most of moisture is evaporated.  Sprinkle with 2 tablespoons cornstarch and stir to combine.  Turn off heat. Remove bay leaf and stirrin 1/4 cup my Blooming Platter Mayo (think slightly tangy white sauce at only 10 calories per tablespoon), 6 ounces toasted bread cubes, 2 tablespoons chopped dates and 1/4 cup toasted slivered almonds.  Spoon into greased casserole dish, and bake 20 minutes. Serve garnished with fresh sage sprigs.
Note: I love a lot of herbs, but you might start with a smaller amount and adjust to suit your taste.
#vegan #veganrecipes #veganfood #veganfoodshare #veganfoodporn #plantbased #plantbasedrecipes #plantbasedfood #plantbasedfoodshare #plantbasedfoodporn