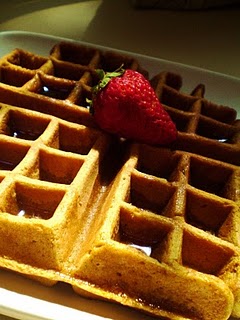 Yield: 2 4-part waffles that may be cut in half for smaller servings
The forecast for today predicts temperatures in the 90s but that didn't prevent me from making very autumnal-sounding waffles fir breakfast. I had ordered several bags of dehydrated pumpkin powder this winter, but had never opened the packages and, for some reason, woke up with a burning desire to use some of it in waffles this morning.
The lovely golden powder is readily available from online sources; I order mine from Barry Farm and it is indispensable when you want that irresistibly homey pumpkin flavor, but not the moisture that comes with it. Hence, waffles are a perfect application, as they need to be crisp-tender.
Whipping up vegan waffle batter is a snap because it doesn't require separating eggs, whipping the egg whites, and folding them in. Cooking the waffles, though, can be a tiny bit tricky just because you can't see what's happening inside the waffle maker. So, before making this or any waffle recipe, be sure you have a reliable waffle iron that you trust implicitly and that you follow the manufacturer's directions to the letter.
Enjoy these pumpkiny waffles with plain warm maple syrup so that nothing overpowers their delicate flavor.
1/2 cup self-rising flour
1/2 cup whole wheat flour
1/2 cup dehydrated pumpkin powder (available online from Barry Farm and other resources)
4 tablespoons sugar
1 1/2 teaspoons pumpkin pie spice
pinch coarse sea or kosher salt
1/2 teaspoon baking powder
1/4 teaspoon baking soda
1 teaspoon white or apple cider vinegar
3/4 cup unsweetened, plain or plain "lite" soymilk
3/4 cup water
1 tablespoon canola oil
Topping: warm maple syrup
Optional garnish: a strawberry and or chopped pecans or walnuts
In a medium mixing bowl, whisk together first seven ingredients. In a small bowl or 2-cup measuring cup, place baking soda and vinegar, causing soda to "fizz." Add soymilk and water and whisk together. Make a well in the center of the dry ingredients and pour in soymilk mixture and canola oil. Whisk together just until completely combined. Set batter aside to rest for 10 minutes. Meanwhile, preheat oven to low and prepare waffle iron according to manufacturer's directions. Cook two full-size 4-part waffles, one at a time, using half of the batter for each, according to the manufacturer's directions for your particular waffle maker,. Remember to spray the cooking surfaces with nonstick spray between each waffle. Keep the first waffle warm in the oven until ready to serve. Because the flavor of these waffles is delicate, they are best served with warm unadorned maple syrup and an optional strawberry or sprinkling of nuts.