As some of you may know from my earlier post or from the viral spread of our exciting news, our dog, Huff the Great Dane, co-stars in a locally produced commercial which is a Top Five Finalist in the "Doritos Crash the Superbowl" commercial competition.
Today was quite an unusual Sunday morning for us, as Joe Flannagan, the much beloved reporter for WVEC Channel 13; his cameraman, Bono; the writer, editor, and director of the commercial, Jonathan Friedman; the assistant director, Matt Friedman; and Huff's co-star, L. Derek Leonidoff, all gathered at our home to film a spot for the 6 o'clock news, which aired about an hour ago.
It was so much fun.  And the end result was such a fitting tribute to a great team effort.  Go Team Huff!
Read all about it here on WVEC Channel 13's website.
Sit. Stay. Vote!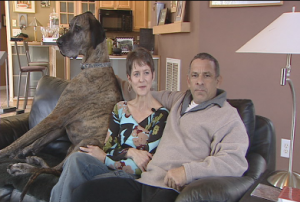 And Share!
Note to vegan foodies: I made dog bone shaped vegan sugar cookies for our guests at Bryanna Clark Grogan's recommendation.  Great idea!  I'll post a photo and recipe tomorrow.