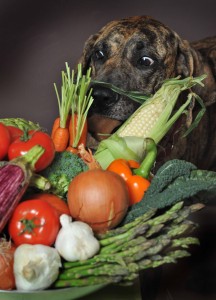 Now that's a face only a "mother" could love!
Yesterday, one of Hampton Roads' top photographers, Kathy Keeney, arrived at my house bearing the most beautiful array of vegetables for a VEER Magazine photo shoot.  Jeff Maisey, the publisher of VEER graciously offered to make me his May-June cover girl and my Blooming Platter Cookbook the subject of the cover story (thank you, Jeff!).
I barricaded the dogs out of the kitchen and dining room with baby gates, but left the deck door open in case they needed to go out, since they couldn't access their dog door.  But that little Miss Minnie (the Mini Great Dane) figured out how to go out the deck door, run through the rock garden, and come in the dog door straight into the dining room.
Fortunately, we were almost finished with the indoor part of the shoot.  So I tucked a (vegan) dog biscuit into the bowl of veggies, and Kathy snapped some shots of Minnie looking positively deranged over that bounty!  Even without the biscuit, she really does love her vegetables almost as much as our dearly departed Veggie Dog, Webster.