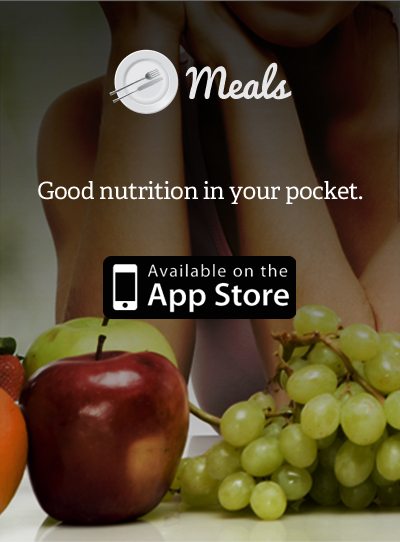 Recently I had the opportunity to conduct an e-interview with Bellatrix Martinez, co-creator of MealsApp.  And I wanted to share this new nutrition tool with all of you:
TBP: Will you share a little something about your background?
BM: My background is in design and my co-founder's background is in software development and mathematics. We have always been highly intrigued by nutrition. We follow the quantify self movement and we enjoy measuring what we put into our bodies. This year we embraced the challenge of creating MealsApp. 
TBP: What exactly is MealsApp and why do Blooming Platter readers need to know about it?
BM: MealsApp is good nutrition in your pocket. We help people improve their nutrition habits. Blooming Platter readers will love MealsApp because it is all about nutrition. We guide, educate and give advice to those who are interested in improving their diet.
TBP: What prompted you to take off on this adventure?
BM: I have personally always been linked to nutrition or nutrition problems. My father suffered from a stroke a couple of years ago due to following a diet that was not right for his condition. Being a vegetarian I have always been intrigued by the kinds of food I select to be part of my menu. "Am I eating what I need since I am a Vegetarian?" was something I asked myself constantly. "Will I run into some nutrition problems because of being a vegetarian?" These were some of the questions I always had. When traveling it was very hard for me to keep track of the food choices I was making, and I ended up always feeling very weak and sick. I knew technology could help me and other people that might be having the same problems.
TBP: What is your ultimate goal or "dream vision" for this project?
BM: Help people. We want users to learn and follow a balanced and healthy menu. We want people to benefit from their nutrition, not get sick because of it. We have had users who suffer from a dietary disease find benefit in MealsApp; I have to say there is nothing more rewarding than that.
TBP: What else do Blooming Platter readers need to know about MealsApp that I haven't asked?
MealsApp is available in the AppStore and it is free to download. We now have more than 15,000 users that have trusted us tracking more than 43,000 meals in our system. Since we started building MealsApp we have been working with a team of Registered Dietitians who have taken us deep in their process, sharing their knowledge with the purpose of reaching thousands of people who might need their help. We would love to include a couple of links to our site and to the app download page: Website  and Download  
TBP:  Thanks, Bellatrix and best wishes!