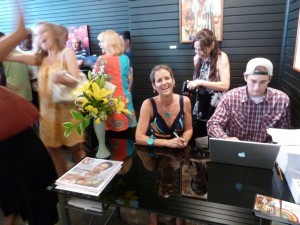 Recipe for a Smashing Launch Party:
1 generous and visionary gallery owner and her sales associate son (Sheila Giolitti and Sebastian Stant)
1 industrial-chic gallery space (Mayer Fine Art Gallery, Norfolk)
20+ gifted artists
A large handful of members of the press (Hampton Roads Magazine,Virginian-Pilot, VEER and more)
An"SRO" crowd of beautiful, vibrant and generous guests (and a signing line out the door!)
28 dozen vegan cookies (courtesy of several good friends + me), 4 dozen pieces of vegan Coconut-Cream Almond Fudge, 3 lbs. of vegan spicy-rosemary cashews, a fruit bouquet, crackers, and plenty of wine
1 beautiful "blooming" arrangement (courtesy The New Leaf, Norfolk)
1 talented "indy" publishing company (Vegan Heritage Press)
1 brand new cookbook (see below)
1 very grateful and joyfully overwhelmed cookbook author (that's me!)
Combine all ingredients, blending well, and you have "Incredible Edibles," the fabulous launch party, book signing, and food-in-art exhibition for my brand new cookbook, The Blooming Platter: A Harvest of Seasonal Vegan Recipes.
I am completely "plattered" by the community embrace of this occasion.  Many stars glittered that night and I am so honored to have been among them.  A heartfelt, but completely inadequate, thanks to all.
For lots of photos that will give you the "flavor" of the event, see The Blooming Platter Cookbook Signing Party photo album on my Facebook page and visit Mayer Fine Art also on FB.