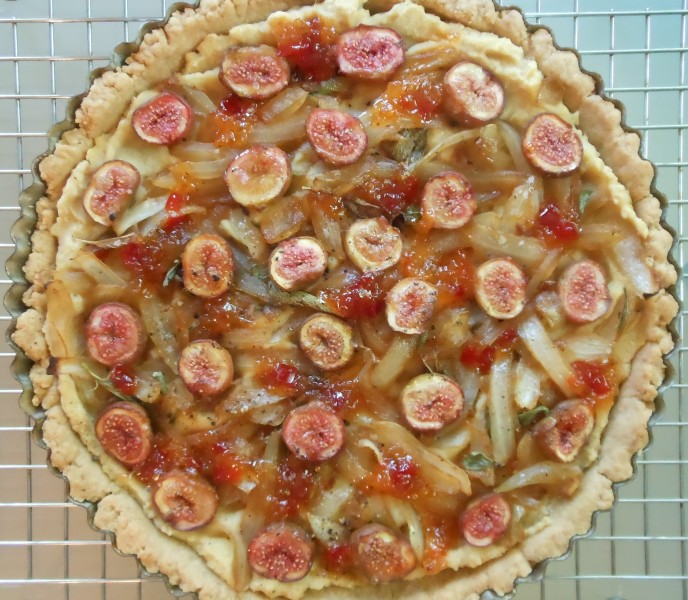 Yield: 8 servings
I am so ashamed that my last post was on August 26–good grief!  But, alas, as you may know,  I am a high school art teacher, and the beginning of school is almost all-consuming (pun intended!).
The first day of our pre-service week was Monday, August 25, so I'm actually surprised I was even able to make one post that week.  Last week was the first week of school with the kids back, so it was very packed.
The pre-service week is never my favorite–and this year's was particularly stressful with a lot of major policy changes and a lot of resulting contention–but I love it when the students return.
Today's recipe is a delicious and beautiful one I made for  one of my contributions to this year's iteration of our annual Julia Child Birthday Bash on August 15.  It was a big hit.  I noticed figs still available at the Farmer's Market this morning, so I hope you can still get them where you live and create your own hit!
1 press-in tart crust (recipe follows)
1-15.5 ounce can cannelini or other white beans, rinsed and drained
Optional: 1 tablespoon nutritional yeast
1/4 cup water + 2 tablespoons water
1 tablespoon olive oil
1 medium yellow onion, slivered
Sea salt
Freshly ground black pepper
1 large clove garlic, minced
1/4 teaspoon sugar
2 tablespoons fresh whole sage leaves (if leaves are large, slice into 1/4-inch slivers)
Fresh figs, halved (the number depends on the size; mine were tiny and I used about 13 small figs about the size of large grapes)
1/4 cup prepared red pepper relish (I used Braswell's brand)
Optional garnish: sprig of fresh sage leaves
While crust bakes, puree in a food processor beans, optional nutritional yeast, and water.  Set aside.  Heat olive oil in a large cast iron skillet over medium-high, add onion, sea salt and pepper to taste, garlic, and sugar, and saute, stirring frequently for about 5 to 7 minutes or until caramelized.  Saute a few minutes longer if a deeper color and flavor is desired.   Stir in sage leaves during the last minute or two.   Spread bean puree evenly on bottom of crust, evenly distribute caramelized onion over the top, arrange figs in a pleasing design, nestling them into the onions, and then dot teaspoons of the relish between the figs.  Return to oven and bake about 15 minutes to heat through.  Remove from oven to a wire rack.  Cool just enough to remove sides of pan without burning yourself if serving warm.  Or cool completely, remove sides, and serve at room temperature.  Garnish with fresh sage leaves if desired.
Press-In Tart Crust:
Ever since I found this recipe at www.steptalk.org, it has been my go-to crust for everything!  It is so easy, never-fail, requires no rolling, and is quite flavorful.
1 1/2 cups flour (unbleached all-purpose, white whole wheat, or whole wheat)
1 teaspoon salt
2 teaspoons sugar
1/2 cup canola oil
2  tablespoons unsweetened soymilk
Preheat oven to 400 degrees.  In a medium bowl, whisk together dry ingredients.  Make a well in the center, and pour in oil and soymilk.  Whisk together just until combined.  Transfer dough to an 11-inch tart pan with a removable bottom, and press evenly onto bottom and around edges.  I like to break the dough into pieces and distribute it around the bottom of the tart pan so that maintaining an even crust is much easier.   Use a drinking glass to assest with the pressing if desired.  Bake 10-12 minutes and remove to a wire rack.