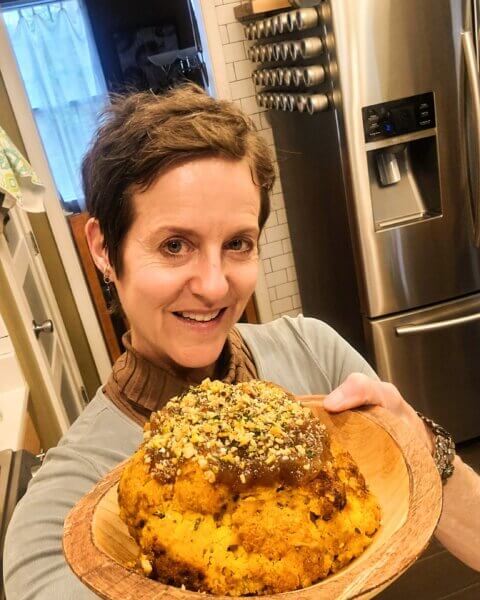 Whole Roasted Cauliflower is my new favorite dinner: nutritious, delicious, gorgeous, and so low in calories and fat! This photo is from Tuesday night dinner with friends, but it is impressive enough for the centerpiece of a holiday feast.
Yet, it is also quick and easy. Though it bakes quite a while at 65 minutes, that is all hands-free time.
After removing the stem from the whole head of cauliflower–but not so much that the florets detatch–I blend 6 tablespoons hummus with sea salt and the spices of my choice.
This one was Indian so I used about 1/2 teaspoon each cardamom, coriander, curry powder, and turmeric. Then I rub the paste all over and under, place the cauliflower stem down in an oiled 8-inch gratin dish or metal baking pan for better browning, bake at 400 for 45 minutes covered, uncover, and bake for 20 minutes more.
Lastly, I top in a variety of ways. For this one, I heated together purchased onion jam (a "Burger Topper" I found at Kroger) with mango chutney I had on hand and sprinkled with finely chopped nuts, chives, and Everything Bagel Seasoning. I have also made a "yumtious" Middle Eastern iteration (see previous post).
I was a little late to the whole roasted cauliflower party, but I am making up for lost time!
#vegan #veganrecipes #veganfoodshare #veganfoodporn #plantbased #plantbasedrecipes #plantbasedfoodshare #plantbasedfoodporn #vegansofinstagram #vegansoffacebook #vegansofvirginia #thebloomingplatter #cauliflowerrecipes