Serves: 25 or more as part of an appetizer buffet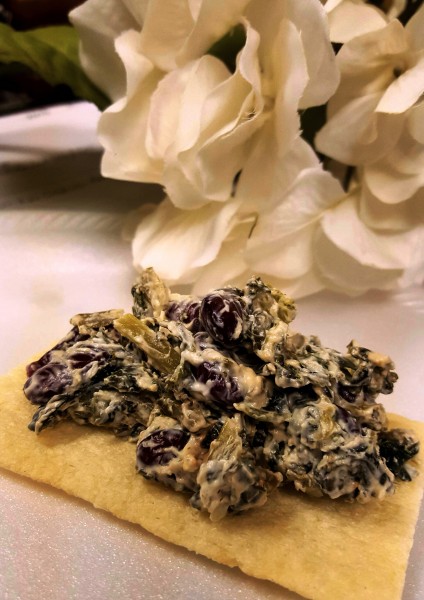 Last Tuesday night was my 15th annual all-girls Christmas, Channukah, Curry & Cakes Party and Swap.   This beloved fete is one of the most cherished of the holiday season.
This year, twenty-two of my nearest and dearest gathered for a tasty and festive vegan spread, including this dip, lots of conversation–and wine–and lively swapping of enticing items (home, garden, fashion, etc.) in excellent condition for ourselves and for holiday gift-giving.
If you've never hosted a swap, here is my easy formula:  set up a table near your entrance outfitted with clothespins, markers, and index cards.  As your guests arrive with their items, invite them to write a description on a card for each item (so that swappers will know what is yours and what is up for grabs) and place it with the item in the designated area.  In my case, that's my living and dining rooms (I serve the food on the peninsula in the kitchen).
Then, for each item a guest brings, she receives a token in the form of a clothespin on which she writes her name with marker.  I save them in zip-lock bags, one per person, from year to year so as not to be wasteful.  When each guest finds an item she wants, she clips one of her clothespins to the card or the item.  If an item only garners one clothespin, that person gets to take it home.  If more than one, the clothespins go in a basket or bag and someone draws the winner with the other person or people allowed to continue shopping.  Anything left over at the end of the night is either donated to charity or, if someone is out of tokens and covets another item, can be purchased with the proceeds also going to charity.
Because most all of us have more than we need, it is an excellent time to shop for gifts.  Just remind guests that the party is a "swap," not a "drop" so that no one says, "I really don't need anything, so I'm not going to shop…"  Otherwise, the hostess ends up hauling lots of stuff to the thrift store and it's not nearly as much fun.
Vegan Beans and Greens Dip
16 ounces vegan sour cream
8 ounces vegan mayo (I like Vegenaise or Just Mayo from Whole Foods)
2-16 ounce bags frozen mixed greens or spinach, thawed, and squeezed out (I purchased organic 365 brand at Whole Foods)
2-14 to 15 ounce cans red kidney beans, rinsed and drained
About 1/2 cup oil-cured black olives, pitted
Approximately 2 tablespoons of your favorite spices or blends (I used a blend from Spice Ace in San Francisco, a gift from a friend, but use what you like; it's hard to go wrong)
Sea salt to taste
Mix everything together, chill, and serve with crackers or toasts.