Yield: 18 biscuits
(These would be delicious with my Vegan Tempeh and Turnip Green Soup!)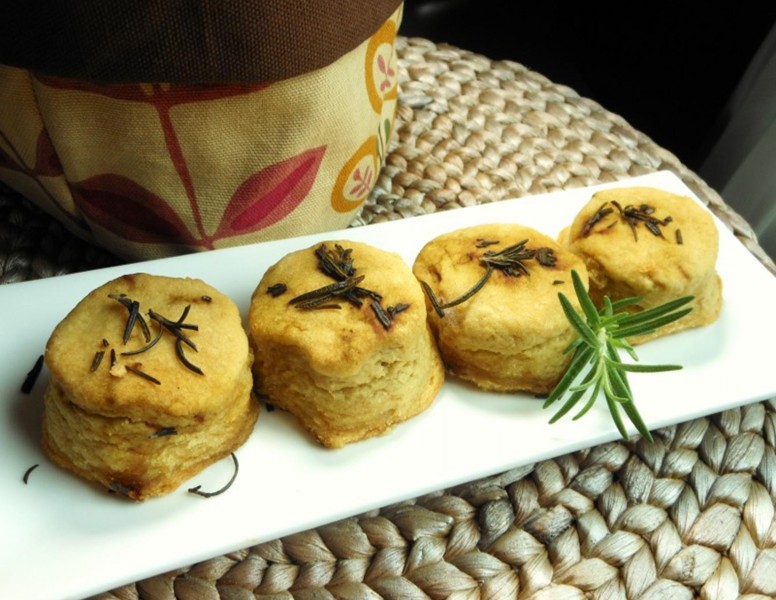 These savory biscuits will be a welcome addition to your breadbasket any time an easy, but extra-special, bread is the order of the day…or night!
With a can of white beans in the pantry, but not in the mood for anything I could think of to make with them—and craving some comfort food due to gray, drizzly weather—I set about brainstorming.  I love sweet potato biscuits and it occurred to me that pureed white beans would be a very similar consistency to mashed sweet potato.
So I jumped online hoping that I wouldn't find that someone had beaten me to the punch.  I may have missed something, but all I could find were recipes for white bean cookies and cakes.  Eureka!
To create my dough, I combined recipes for my favorite vegan biscuits and a recipe for sweet potato biscuits, though I think the latter can be a bit too heavy.  So I manipulated the proportions a bit.  The results are meltingly tender and the biscuits pull apart in luscious flaky layers!  I attribute this, in part, to the inclusion of both vegetable shortening and (vegan) butter—frozen!— but also to my folding method which mimics that of making puff pastry.  Like folding a business letter, my method is much simpler than puff pastry, as no butter is distributed between the layers.
The rosemary butter topping is optional, but delicious, making these biscuits a to-die-for breakfast item or accompaniment to a meal.  Be forewarned, though, they might overshadow the main dish!
1-15.5 ounce can white beans, rinsed and drained
2 cups unbleached all-purpose flour + about 5 tablespoons more (for rolling out)
1/4 teaspoon sea salt
1 tablespoon baking powder
1 teaspoon baking soda
3/4 cup unsweetened soymilk (or milk)
1/4 cup frozen vegetable shortening, cut into 1-inch chunks
1/4 cup frozen vegan butter, cut into 1-inch chunks + 3 additional tablespoons (or butter)
1 tablespoon finely chopped fresh rosemary
Preheat oven to 400 degrees.  Place white beans in a food processor and process until smooth.  Add 2 cups flour, sea salt, baking powder and baking soda.  Pulse just until mixture is well combined.   Add frozen shortening and 1/4 cup frozen butter, and pulse until uniformly distributed and about the size of small peas.  Drizzle in soymilk and pulse a few more times until the dough comes together.   Dough will be a bit sticky. (See below for hand-mixing directions.)

Dust a bread board or other pastry surface (including your countertop!) with a couple of tablespoons of flour, transfer dough onto it, and knead the flour into it, adding a couple more tablespoons as necessary.  Dust board with about 1 tablespoon more flour if necessary and pat out dough into a rectangle about 3/4-inch thick.   Fold like a business letter or puff pastry by folding in one short side 2/3 of the way across the surface, and then folding the opposite short side back across.  Pat out the dough into a 3/4-inch thick rectangle again, turn a quarter turn and repeat the folds.  Repeat the entire folding and patting process about 4 times.  After patting out the dough for the last time, cut with a 2-inch biscuit or cookie cutter, gently combining and re-rolling scraps.

Meanwhile, melt the remaining 3 tablespoons of butter in a large cast-iron skillet.  Pour off all but about a tablespoon and reserve in a small cup or bowl.  Add chopped rosemary to the reserved butter and set aside.  Lay each biscuit into the skillet and then flip it in order to butter both sides, leaving each biscuit in the skillet and placing them close together.  Bake for 12 minutes, brush the tops with reserved rosemary butter, and bake for an additional 3 minutes.  Serve immediately.  Store leftovers in an airtight container in the refrigerator.  Reheat for a few minutes at 350 degrees, wrapped in foil.
Hand-mixing directions: if you prefer to mix the dough by hand, mash the beans with a potato masher until smooth.  Then spray a box grater with non-stick spray and grate both the shortening and the butter into the flour mixture so that it is still very cold when you incorporate it.  As you fold and pat the dough, be sure not to let the warmth of your hands melt the frozen shortening and butter.

Serving note: if you were admiring the "bread bag" in the photo, all of the credit belongs to Emily Crell, owner of the former Forbidden City in VA Beach.  She made some out of solid fabric for her daughter and son-in-law's new restaurant, Braise, (in partnership with Chef Bobby Huber) and when I admired them, she made me a set of four "just because."  What is so ingenious about the design is a little flat removable pouch filled with dried rice that sits at the bottom.  You simply remove it, heat it in the microwave for a couple of minutes, replace, and pile breads or biscuits on top to stay warm at the table.  Just as remarkable is the fact that she has never seen our house nor asked about color and style, yet she picked a mid-century modern-inspired pattern (my favorite period in design) in the exact palette of our home!