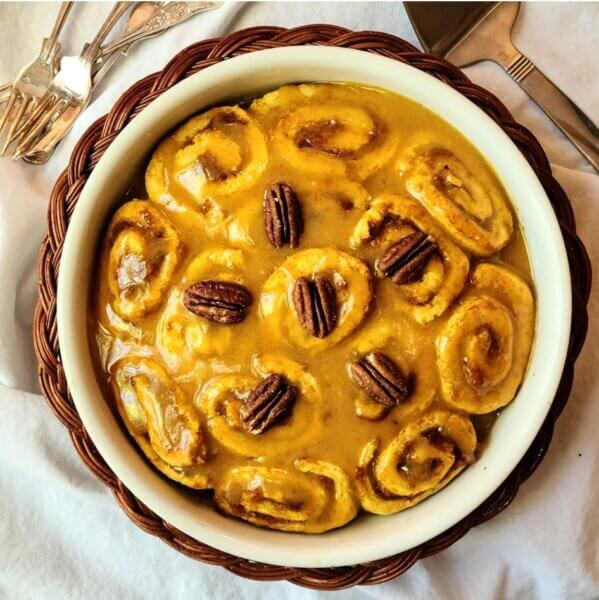 Quick & Easy Pumpkin Spice Cinnamon Rolls (vegan/plant-based)
Yield: approximately 14 rolls
There are two kinds of people in the world: those whose happy place is smack dab in the middle of pumpkin spice season and everyone else.
If you are one of my people in the former group, you will love this quick and delicious recipe. The yeast-free dough comes together in a flash, ensuring that you can whip together warm, spiced, tasty and tender rolls for breakfast–or afternoon tea–even when you get a last-minute inspiration.
Cinnamon Rolls:
1/2 cup non-dairy milk
1 tablespoon apple cider vinegar
2 1/2 cups all-purpose flour
2 1/2 teaspoons baking powder
1 teaspoon salt
3/4 teaspoon baking soda
1/2 cup Tofutti Better Than Sour Cream
4 tablespoons vegan butter
1/3 cup pureed pumpkin (not pie filling)
1/4 cup granulated sugar
1/4 cup brown sugar
1 teaspoon pumpkin pie spice (or substitute mostly cinnamon plus a pinch ginger, nutmeg, and allspice)
1/2 teaspoon vanilla extract
Optional: 1/4 teaspoon almond extract
Pumpkin Spice Glaze (recipe follows)
Optional Garnish: toasted pecan halves
Directions:
Preheat oven to 450 degrees. Grease a 9-inch round baking dish, preferably ceramic or glass, and set aside. In a small cup, whisk together non-dairy milk and vinegar; set aside to curdle.
Place flour, baking powder, salt, and baking soda in large bowl of food processor and pulse a couple times to combine. Or mix dough by hand in large mixing bowl. Add curdled milk and Tofutti Better Than Sour Cream and pulse until it comes together as a ball. If mixing my hand, stir with a fork until a uniform dough is formed.
Turn dough out onto a lightly floured surface, knead a couple times, and roll into a 10 x 14" rectangle with a floured rolling pin. (This size creates the best ratio of dough to filling.)
In a small bowl, whisk together pumpkin, both sugars, pumpkin pie spice, vanilla extract, and almond extract if using. Reserve 1/4 cup to make glaze and spoon the rest down the center of dough rectangle. Spread to within 1/2-inch of border.
Roll up, jellyroll, fashion, staring at one long side. If filling squeezes out as you roll, just scoop up excess with a spoon and add to the reserved mixture. With a serrated knife, cut roll into 14 one-inch-thick slices and place, spiral up, in concentric circles in prepared dish, leaving a little space in between.
Bake 15 minutes or until golden. Remove from oven and let cool on wire rack 10 minutes. Pour and spread glaze over top, garnish if desired with pecan halves, and serve immediately.
Pumpkin Spice Glaze:
1/4 cup reserved pumpkin spice filling
3/4 to 1 cup powdered sugar
1/4 teaspoon vanilla extract
1 or more tablespoons non-dairy milk, as needed
Optional: 1/8 teaspoon almond extract
Directions:
Whisk together reserved pumpkin spice filling, 3/4 cup powdered sugar, vanilla extract, and optional almond extract, adding additional powdered sugar and non-dairy milk, as needed, to reach desired consistency. It should be thick, but pourable.
*Created exclusively for Tofutti Brands, Inc. by Betsy DiJulio of The Blooming Platter.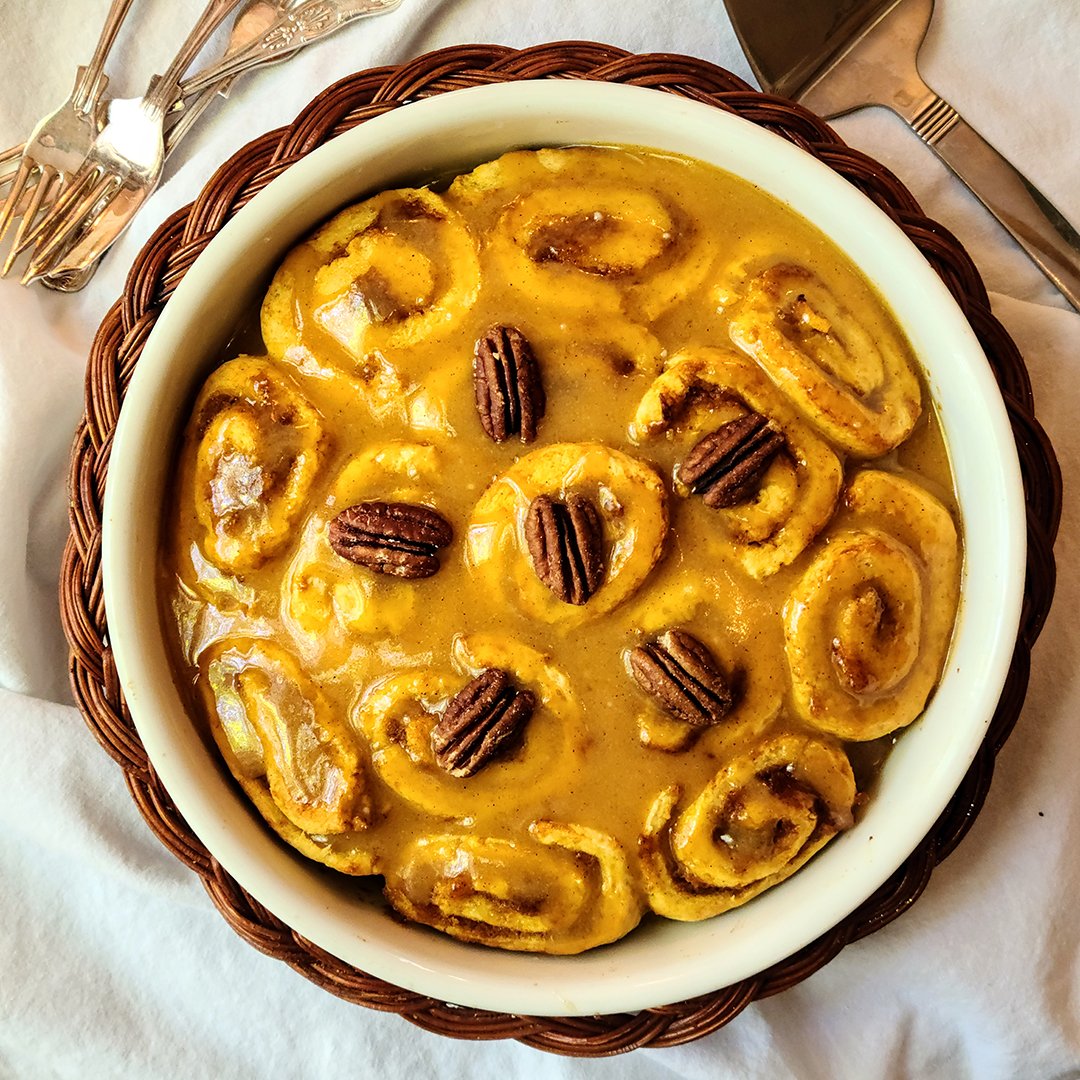 better than sour creampumpkin spice