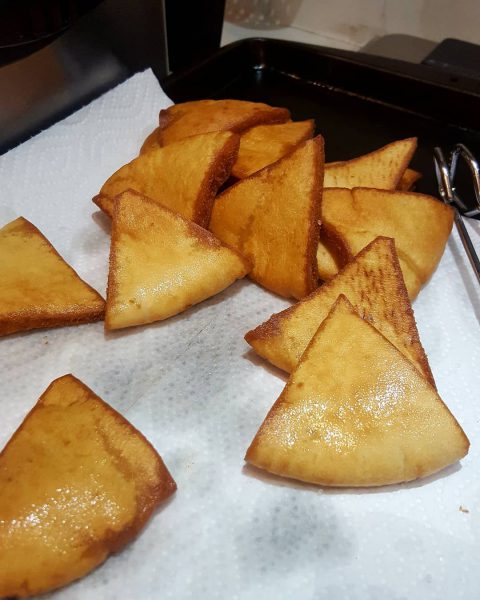 Inspired by fried pita we had last night at a local "fun dining" restaurant and bar called Twist with a good friend, Bob thought he knew what would work for a homemade version.
He was exactly right! Yowza.  We cut some pita we had on hand into 6ths, fried it in our cute little Cuisinart deep fryer for 30 seconds–turning after about 20–and drained it on a paper towel-lined cookie sheet.
We both enjoyed ours with hummus.  He likes roasted garlic, and I love a smoky roasted eggplant variety, both from Kroger. Of course, to bulk mine up, I top it with cauliflower pearls and some carrot planks.
The fried bread is addicting and will only be an occasional splurge. We even thought it would be good sprinkled with powdered sugar in place of donuts.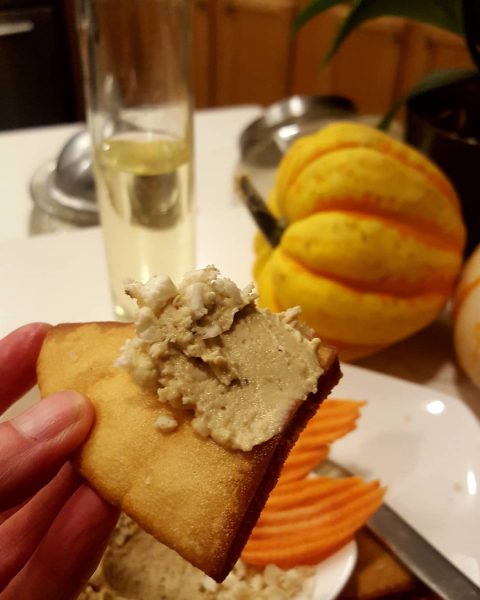 #vegan #veganrecipes #veganfood #veganfoodshare #veganfoodporn #plantbased #plantbasedrecipes #plantbasedfood #plantbasedfoodshare #plantbasedfoodporn