Yield: 4 servings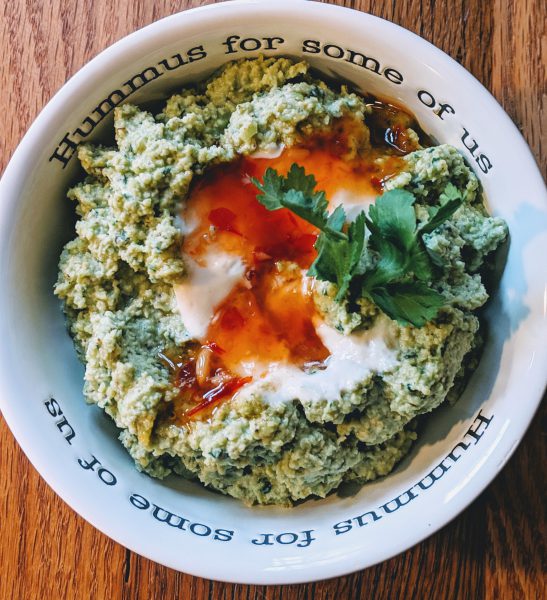 Laura Theodore, aka the Jazzy Vegetarian, is hitting all the high notes and winning awards and accolades in the process. From her latest vegan cookbook, to the Jazzy Vegetarian on public television, to her podcast radio show, to her pop-up restaurant, this vibrant recording artist never misses a beat. She is everywhere: from Netflix to CBS to HBO, just to mention a few forums where she has been featured.
Her recipes are simple and straightforward; the resulting dishes colorful and flavorful. In fact, I gifted good foodie friends with one of her cookbooks, Vegan-ease this Christmas. Like me, they like to use recipes as a starting point for their own iterations, and no better place to start than with Laura's, though her recipes are perfectly balanced as is.
When her latest cookbook, Jazzy Vegetarian's Deliciously Vegan hit the stands, I had promised to participate in a "blog tour," but life got in the way. So, better late than never. Today, I finally had an opportunity to return the favor to this energetic and supportive member of the vegan community, for years ago, she interviewed me on the Jazzy Vegetarian Radio when my cookbook, The Blooming Platter: A Harvest of Seasonal Vegan Recipes was published.
Says Laura of her quick and easy recipe featured here, "Miso provides texture and taste to this hummus without adding any oil, keeping it a light and low-fat option for a satisfying snack."
True confession, I added a tablespoon of oil because I love the mouthfeel of a hint of oil, but I also love Laura's idea of using good 'ole tap water for most of the moisture. Also, though I know the prevailing wisdom is to make a recipe as printed the first time and then adjust, I didn't have any chickpeas on hand, it is pouring rain here, and I didn't want to run into the grocery store. So, I made it with the edamame which I had in the fridge. Yum. And I used my food processor rather than blender.
Also, because my hummus was leaning in an Asian direction–and because I have been cooking and developing award-winning recipes for a very long time–I made a couple of other alterations: I added 2 large cloves of garlic, minced, and, over the top, I drizzled about a tablespoon of my Blooming Platter Mayo (basically, a white tangy "sauce") and another of Asian Sweet Chili Sauce for color and zing. I think Laura would approve of my "jazzing up" my version just a little.
But, I guarantee that her unadulterated Miso-Parsley Hummus would be delicious as is:
1 can (15 to 16 ounces) chickpeas (garbanzo beans), drained and rinsed
2 to 3 tablespoons water, plus more as needed
2 tablespoons freshly squeezed lemon juice (see note)
1 tablespoon chopped fresh parsley
1 tablespoon mellow white miso
1/4 teaspoon cayenne pepper
1/4 teaspoon sea salt
Chef's Note: For a more lemony taste, add 1 more tablespoon of fresh lemon juice.
Put all of the ingredients into a blender and process until smooth. Add a bit more water, as needed, to achieve the desired consistency.
Recipe by Laura Theodore, from Jazzy Vegetarian's Deliciously Vegan. Published by Scribe Publishing, ©2018, reprinted by permission.