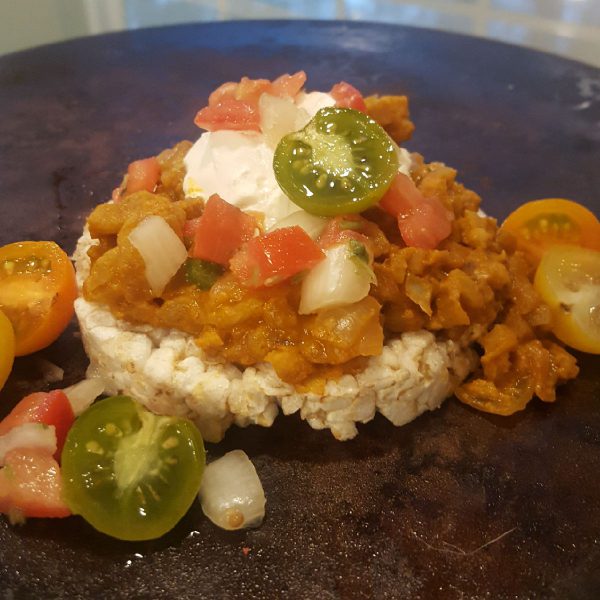 Honestly, this filling is a rave and impossibly healthy.  Not only is it made with no oil, but no calorie-dense ingredients like nuts.  It is made from what virtually everything I make is made from nowadays: riced vegetables, but you would NEVER know it.  Rich, thick, and beautifully spiced, this filling can be used in tacos, enchiladas, burritos, and quesadillas or spooned over nachos.
1/2 large yellow onion, diced
2 to 3 cloves garlic, minced
2 cups riced vegetables (I used a hash made of cauliflower, broccoli, and carrot, but any single or combination of these vegetables would work great)
1 teaspoon ground cumin
1 teaspoon smoked paprika
1 teaspoon dried cilantro (or 1 tablespoon fresh, finely chopped)
1 vegetable bouillon cube (the size to make 8 ounces broth) or 1 teaspoon vegetable broth base
1/2 to 1 teaspoon sauce from a can of Chipotle Chilies in Adobo Sauce (it is very spicy, so you might want to start with the smaller amount)
Sea salt to taste
1/2 cup my Luscious Vegan Low-Fat/Low-Calorie Cauliflower Cheese Sauce
Add water to a large skillet just to cover the bottom.  Heat over medium to medium-high heat.  Add onion and garlic and saute for a few minutes, stirring frequently, until tender.  Add riced vegetables and enough water to not quite cover.  Cook, stirring frequently, until vegetables are tender and moisture is mostly evaporated.  Stir in cumin, smoked paprika, cilantro, bouillon cube, Adobo Sauce, and sea salt to taste.  Stir in cauliflower cheese sauce and heat through.  Serve immediately.
Serving note: I love it spooned over a brown rice cake and topped with a dab of vegan sour cream, a spoonful of pico de gallo, and two or three halved cherry tomatoes.  A sprig of cilantro would be just right, but I didn't have any for the photo shoot.
#vegan #veganrecipes #veganfood #veganfoodshare #veganfoodporn #plantbased #plantbasedrecipes #plantbasedfood #plantbasedfoodshare #plantbasedfoodporn