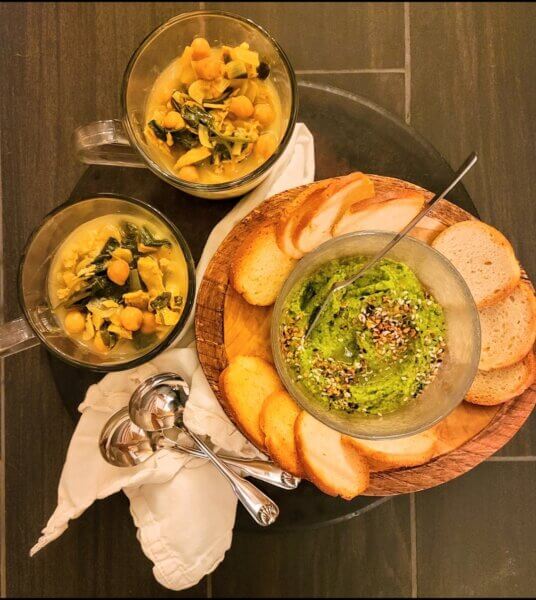 Though made from pantry staples, you and your guests would never guess. Rustic, but refined, this meal is company approved.
With a winter storm bearing down on 1/21/22, I invited a dear friend for an early dinner, as Bob was away and snow was starting about 8 p.m. in Eastern Virginia.
I had made the soup a day or so prior, but wanted something to go with. Green peas in the freezer suggested hummus and parsley in the fridge provided freshness. But with no tahini, I perused my newly purged and organized fridge (the previous Saturday's project) and came up with white miso instead. Never going back!
The soup is simple, but special, courtesy cardamom, smoked paprika, and turmeric. Oh and plant-based parm!
Green Pea Hummus with Miso and Parsley
1 cup cooked fresh or thawed frozen green peas
1/2 cup loosely packed parsley, tender stems included
3 large cloves garlic
2 tablespoons fresh lemon juice
2 tablespoons olive oil
1 tablespoon light miso
1/2 teaspoon sea salt
1/4 teaspoon freshly ground pepper
Garnish: 1 tablespoon olive oil and 2 teaspoons Everything Bagel Seasoning
Accompaniment: bagel chips, crackers, toasts, or fresh raw vegetables
Process together all ingredients except garnishes and accompaniments, scraping down sides of bowl as necessary. Drizzle with olive oil and a sprinkle of Everything Bagel seasoning, and serve with accompaniment of your choice.
Middle Eastern Chick'n-Chickpea-Spinach-and Parm Soup
3 cups vegetable stock
1 small onion, diced
1/2 teaspoon sea salt
1/4 teaspoon freshly ground black pepper
2 to 3 large cloves garlic, sliced
2 tablespoons hummus (I had garlic hummus on hand)
1 teaspoon ground coriander
1 teaspoon smoked paprika
1 teaspoon turmeric
4 firmly packed cups fresh baby spinach leaves
1 cup shredded plant-based parmesan (I like Follow Your Heart)
1-15 ounce can chickpeas, rinsed and drained
8 ounces plant-based chick'n (I like Tofurky brand)
In a 2.5 to 3-quart soup pan, heat about 1/2 cup vegetable stock over medium high. Add onion, salt, and pepper, and saute until onion begins to soften. Add garlic and continue sauteeing until both garlic and onion are very soft. Add spices and stir until completely combined. Add remaining stock followed by spinach in two halves, stirring until wilted after each. Stir in parmesan, chickpeas, and plant-based chick'n, and continue stirring until cheese is melted, flavors married, and soup is heated through.

#vegan #veganrecipes #veganfoodshare #veganfoodporn #plantbased #plantbasedrecipes #plantbasedfoodshare #plantbasedfoodporn #vegansofinstagram #vegansoffacebook #vegansofvirginia #thebloomingplatter #plantbasedsoup #vegansoup #greenpeahummus #MiddleEasternRecipes #pantrystaples